In addition to being one of the most beautiful port cities in God's Own Country, Kochi is also revered as one of the most mesmerising backwater destinations in Kerala! Located on the banks of the magical Vembanad Lake, this electrifying city can be called as a heaven for the backwater enthusiasts!
Also known as the Queen of the Arabian Sea, backwater cruises in Cochin has their own charisma and charm. While on such a cruise around the Vembanad Lake in Cochin, visitors get to explore, discover, and get acquainted with the golden history of the city. In addition, the historical and other popular landmarks around the city add more to the backwater cruises!
Best Time to Visit Cochin Backwaters
Winter or October-February is the best time to enjoy the Cochin backwaters. With the mercury level going down, temperature decreases and makes the ambience cool and calm. Also, as there are almost zero chances of rains, visitors can enjoy Cochin backwaters to their hear context during the winters.
Tourist Attractions Around Cochin Backwaters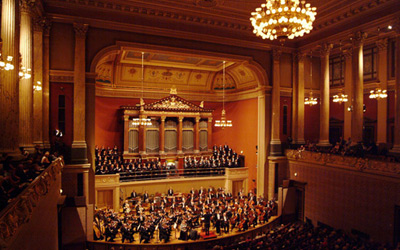 Built during 1567, Paradesi Synagogue is among the seven synagogues in the kingdom of Cochin. A brilliant display of art, faith, devotion, and traditions, it is also the oldest active synagogues in the Commonwealth of Nations.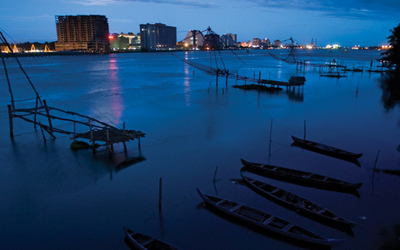 Once a tiny fishing village, Fort Kochi is in fact one of the highest visited tourist attractions near Cochin Backwaters. Dotted with numerous historical monuments and establishments, it is a must visit attraction in Kerala's tourism map.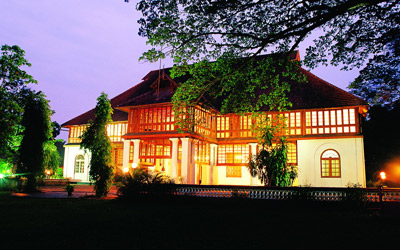 A magnificent palace that dates back to 1555, Mattancherry Palace; also known as the Dutch Palace, reciprocates the finest form of Portuguese architecture. It was gifted to the king of Cochin as a token of thanks by the Portuguese rulers.
Trains to Reach Cochin Backwaters
| Destination/From | Train Name | Train No. | Available Days |
| --- | --- | --- | --- |
| Yesvantpur Jn – Eranakulam Jn | Ypr Ers Exp | 06543 | Sun |
| Bangalore Cy Jn – Trivandrum Cntl | Trivandrum Exp | 16321 | Thu |
| Karaikal – Eranakulam Jn | Ernakulam Exp | 16865 | Round the Week |
| Chennai Cntl – Eranakulam Jn | Ernakulum Exp | 06345 | Fri |
| H Nizamuddin – Eranakulam Jn | Nzm Ers Duronto | 12284 | Sat |
| Lokmanyatilak T – Eranakulam Jn | Ltt Ers Duronto | 12223 | Tue, Sat |
| Lokmanyatilak T – Eranakulam Jn | Cstm Ers Special | 01065 | Wed |
| Bangalore Cy Jn – Eranakulam Jn | Ernakulam Superfast Exp | 12684 | Tue, Thu |
| H Nizamuddin – Trivandrum Cntl | Swarna Jayanti | 12644 | Fri |
| Bangalore Cy Jn – Eranakulam Jn | Ernakulam Superfast Exp | 22608 | Mon |
| H Nizamuddin – Trivandrum Cntl | Trivndrm Rajdhani | 12432 | Tue, Wed, Sun |
| Madgaon – Eranakulam Jn | Madgaon Ers Exp | 10215 | Sun |
| Bilaspur Jn – Eranakulam Junction | Bsp Ers S F Exp | 22815 | Mon |
| Shalimar – Trivandrum Cntl | Shm Tvc Superfast Exp | 22642 | Tue, Sun |
| Mumbai Cst – Trivandrum Cntl | Trivandrum Express | 16331 | Mon |
| Dhanbad Junction – Alleppey | Dhn Alappuzha E | 13351 | Round the Week |
| Tatanagar Jn – Alleppey | Tata Allp Exp | 18189 | Round the Week |
| Indore Jn Bg – Trivandrum Cntl | Ahilyanagari Exp | 22645 | Mon |
| Pune Jn – Eranakulam Jn | Pune Ers Superfast Exp | 22150 | Wed, Sun |
| Bangalore Cy Jn to Kochuveli | Kochuveli Exp | 16315 | Round the Week |
| Trivandrum Cntl to Guruvayur | Guruvayur Exp | 16342 | Round the Week |
| Mangalore Cntl – Nagercoil Jn | Ernad Exp | 16605 | Round the Week |
| Kozhikode – Trivandrum Cntl | Jan Shatabdi | 12075 | Round the Week |
| Karaikal to Eranakulam Jn | Ernakulam Exp | 16187 | Round the Week |
| H Nizamuddin – Eranakulam Jn | Mngla Lksdp Exp | 12618 | Round the Week |
| Chennai Egmore to Guruvayur | Ms Guruvayur Exp | 16127 | Round the Week |
| Trivandrum Cntl – Eranakulam Jn | Vanchinad Express | 16304 | Round the Week |
| Kannur – Eranakulam Jn | Ernakulam Exp | 16306 | Round the Week |
| Kannur – Alleppey | Alleppey Exp | 16308 | Mon, Tue, Wed, Fri, Sun |
| Mangalore Cntl – Trivandrum Cntl | Maveli Exp | 16603 | Round the Week |
| Chandigarh – Kochuveli | Kerla S Kranti | 12218 | Wed, Fri |
| H Nizamuddin – Trivandrum Cntl | Nzm Tvc Superfast Exp | 22634 | Fri |
| Patna Jn – Eranakulam Jn | Pnbe Ers Exp | 22644 | Thu, Fri |
| H Nizamuddin – Eranakulam Jn | Ers Millenum Exp | 12646 | Tue |
| Pune Jn – Eranakulam Jn | Poorna Exp | 11097 | Sat |
| Okha – Eranakulam Jn | Okha Ers Exp | 16337 | Mon, Sat |
| Ajmer Jn – Eranakulam Jn | Maru Sagar Exp | 12978 | Fri |
| Patna Jn – Eranakulam Jn | Pnbe Ers Exp | 16360 | Tue |
| Gorakhpur Jn – Trivandrum Cntl | Rapti Sagar Exp | 12511 | Thu, Fri, Sun |
| Shoranur Jn – Trivandrum Cntl | Venad Exp | 16301 | Round the Week |
| Barauni Jn – Eranakulam Jn | Rapti Sagar Exp | 12521 | Mon |
| Lokmanyatilak T – Trivandrum Cntl | Netravati Exp | 16345 | Round the Week |
| Amritsar Jn – Kochuveli | Asr Kcvl Exp | 12484 | Sun |
| New Delhi – Trivandrum Cntl | Kerala Exp | 12626 | Round the Week |
| Bangalore Cy Jn – Eranakulam Jn | Ernakulam Exp | 12677 | Round the Week |
| Chennai Cntl – Trivandrum Cntl | Super Ac Exp | 22207 | Tue, Fri |
| H Nizamuddin -Trivandrum Cntl | Nzm Tvc Superfast Exp | 22656 | Fri |