Kozhikode Backwaters Kerala
The once an important spice trading centre in Kerala, Kozhikode or Calicut is among the most renowned and salubrious backwater destinations in Kerala. Located on the Malabar Coast, this coastal metropolis has some of the virgin and untouched backwaters that are thronged by thousands of visitors every year!
Fringed with groovy palm thickets, the Kozhikode backwaters are unique and are connected by canal networks. While cruising along these backwaters, visitors also get to witness, explore, discover, and enjoy the rustic charm of Kerala's rural cultures.
Ideal for honeymoon cruises, family vacations, weekend escapades, the charm and allurement of Kozhikode backwaters get enhanced by the jolly houseboats that are most common here. The gurgling Kali River and Canoli Canal in Calicut also makes it for exciting and fun-frolic backwater tours in Kerala.
Best Time to Visit Kozhikode Backwaters
For those who want to enjoy the best of Kozhikode backwaters, they must plan their Kerala trip during the winters or between the months of October to March. This is the time when the mercury level drops down and offers an extremely pleasant experience of backwater cruising in Kozhikode.
Tourist Attractions Around Kozhikode Backwaters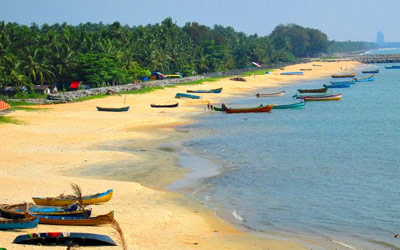 Untouched from the outer world, Kappad Beach boasts of being the landing ground of Vasco da Gama in India. Unlike most of the Kerala beaches, this one still holds the traditional charm and appeal of Kerala.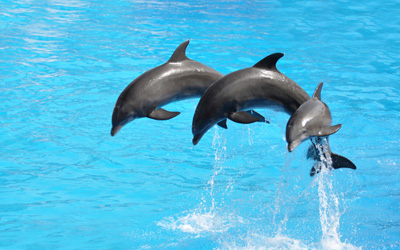 While unwinding and adoring the beauty of Kozhikode Backwaters, you can always add some more fun-filled and exciting moments by embarking on a dolphin spotting tour. And if you are really craving for such an enthralling experience, Dolphin Point is the place for you!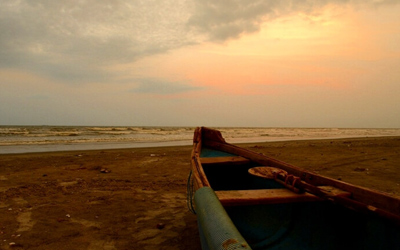 A beach where the golden sand embraces the turquoise sea waves, Payyoli Beach can make you forget any other beaches in Kerala. Since the water level around this tourist marvel is quite shallow, it serves as an ideal spot for various water sports and activities.
Trains to Reach Kozhikode Backwaters
| Destination/From | Train Name | Train No. | Available Days |
| --- | --- | --- | --- |
| Tiruchchirapali – Mangalore Cntl | Tpj Maq Exp | 12653 | Sat |
| Trivandrum Cntl – New Delhi | New Delhi Ac Exp | 04095 | Thu |
| Madgaon to Chennai Central | Mao Mas Spl | 06002 | Mon |
| Nagercoil Jn – Mangalore Jn | Mangalore Exp | 06304 | Wed |
| Chennai Cntl – Mangalore Jn | Madgaon Exp | 06003 | Sun |
| Lokmanyatilak T – Eranakulam Jn | Cstm Ers Spl | 01065 | Wed |
| Vasco Da Gama – Vellankanni | Vsg Vlnk Exp | 07323 | Wed |
| Mangalore Jn – Chennai Cntl | Chennai Exp | 06004 | Fri |
| Puducherry – Mangalore Cntl | Mangalore Exp | 16855 | Thu |
| Bikaner Jn – Coimbatore Jn | Bkn Cbe Ac S F | 22475 | Thu |
| H Nizamuddin – Trivandrum Cntl | Trivndrm Rajdhani | 12432 | Tue, Wed, Sun |
| Madgaon to Eranakulam Jn | Madgaon Ers Exp | 10215 | Sun |
| Dadar – Tirunelveli | Dadar Ten Exp | 22629 | Fri |
| Pune Jn – Eranakulam Jn | Pune Ers Superfast Exp | 22150 | Wed, Sun |
| Trivandrum Cntl – Kozhikode | Jan Shatabdi | 12076 | Round the Week |
| Trivandrum Cntl – Veraval | Veraval Exp | 16334 | Mon |
| Mangalore Cntl – Chennai Cntl | Chennai Mail | 12602 | Round the Week |
| H Nizamuddin – Eranakulam Jn | Mngla Lksdp Exp | 12618 | Round the Week |
| Eranakulam Jn – Kannur | Cannanore Exp | 16305 | Round the Week |
| Alleppey – Kannur | Cannanore Exp | 16307 | Mon, Tue, Wed, Fri, Sun |
| Kannur – Alleppey | Alleppey Exp | 16308 | Mon, Tue, Wed, Fri, Sun |
| Yesvantpur Jn – Kannur | Ypr Cannanore Exp | 16527 | Round the Week |
| Yesvantpur Jn – Mangalore Cntl | Mangalore Exp | 16565 | Sun |
| Chandigarh – Kochuveli | Kerla S Kranti | 12218 | Wed, Fri |
| H Nizamuddin – Trivandrum Cntl | Nzm Tvc Superfast Exp | 22634 | Fri |
| Bhavnagar Trmus – Kochuveli | Bvc Kcvl Exp | 19260 | Sun |
| Dehradun – Kochuveli | Ddn Kcvl Superfast Exp | 12288 | Mon |
| Pune Jn – Eranakulam Jn | Poorna Exp | 11097 | Sat |
| Bikaner Jn – Kochuveli | Bkn Kcvl Exp | 16311 | Tue |
| Ajmer Jn – Eranakulam Jn | Maru Sagar Exp | 12978 | Fri |
| Lokmanyatilak T – Trivandrum Cntl | Netravati Exp | 16345 | Round the Week |
| Amritsar Jn – Kochuveli | Asr Kcvl Exp | 12484 | Sun |
| Kannur – Trivandrum Cntl | Jan Shatabdi | 12081 | Mon, Tues, Thu, Fri, Sat |
| Jammu Tawi – Mangalore Cntl | Navyug Exp | 16688 | Thu |
| H Nizamuddin – Trivandrum Cntl | Nzm Tvc Superfast Exp | 22654 | Mon |
| H Nizamuddin – Trivandrum Cntl | Nzm Tvc Superfast Exp | 22656 | Fri |
| Dehradun – Kochuveli | Ddn Kcvl Superfast Exp | 22660 | Mon |