Kasaragod Backwaters Kerala
Kasaragod in God's Own Country also boasts of being one of the most prismatic backwaters destinations in Kerala. Dotted with fascinating rolling hill, stunning beaches, numerous religious sites, historic forts, and other natural marvels, this gorgeous city hosts a significant number of backwater enthusiasts who yearn to discover and explore the bewitching beauty of the Kerala backwaters.
Located on the northern tip of Kerala, the Chandragiri River passing through this city enchants the visitors with amazing backwater options. Silent and salubrious, pristine and untouched, these stretches of Kasaragod backwaters also allow the visitors to have a glimpse of Kerala's bygone history and colourful cultures.
Best Time to Visit Kasaragod Backwaters
Kasaragod backwaters are best enjoyed during the winters. Unlike other seasons, the weather remains quiet and calm, and offers ample of backwater options to the visitors.
Tourist Attractions Around Kasaragod Backwaters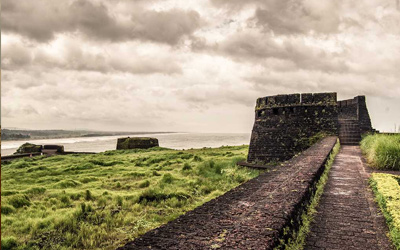 Untouched from the outer world, Kappad Beach boasts of being the landing ground of Vasco da Gama in India. Unlike most of the Kerala beaches, this one still holds the traditional charm and appeal of Kerala.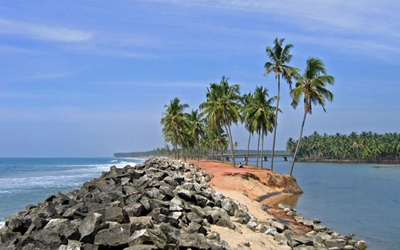 While unwinding and adoring the beauty of Kozhikode Backwaters, you can always add some more fun-filled and exciting moments by embarking on a dolphin spotting tour. And if you are really craving for such an enthralling experience, Dolphin Point is the place for you!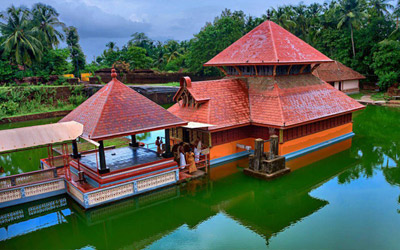 A beach where the golden sand embraces the turquoise sea waves, Payyoli Beach can make you forget any other beaches in Kerala. Since the water level around this tourist marvel is quite shallow, it serves as an ideal spot for various water sports and activities.
Trains to Reach Kasaragod Backwaters
| Destination/From | Train Name | Train No. | Available Days |
| --- | --- | --- | --- |
| Madgaon – Chennai Cntl | Mao Mas Spl | 06002 | Mon |
| Nagercoil Jn – Mangalore Jn | Mangalore Exp | 06304 | Wed |
| Mangalore Jn – Nagercoil Jn | Tvc Hyb Exp | 06305 | Sat |
| Chennai Cntl – Mangalore Jn | Madgaon Exp | 06003 | Sun |
| Mangalore Jn – Kochuveli | Nagercoil Exp | 06303 | Thu |
| Lokmanya Tilak Trm – Tirunelveli | Ltt Ten Spl | 01067 | Sun |
| Lokmanya Tilak Trm – Eranakulam Jn | Cstm Ers Special | 01065 | Wed |
| Mangalore Cntl – Chennai Cntl | West Coast Exp | 16628 | Round the Week |
| Vellankanni – Vasco Da Gama | Vlnk Vsg Exp | 07324 | Thu |
| Mangalore Cntl – Trivandrum Cntl | Malabar Exp | 16630 | Round the Week |
| Mangalore Cntl – Puducherry | Puducherry Exp | 16856 | Fri |
| H Nizamuddin – Trivandrum Cntl | Trivandrum Rajdhani | 12432 | Tue, Wed, Sun |
| Bikaner Jn – Coimbatore Jn | Bkn Cbe Ac S F | 22475 | Thu |
| Dadar – Tirunelveli | Dadar Ten Exp | 22629 | Fri |
| Pune Jn – Eranakulam Jn | Pune Ers Superfast Exp | 22150 | Wed, Sun |
| Mangalore Cntl – Chennai Cntl | Chennai Mail | 12602 | Round the Week |
| H Nizamuddin – Eranakulam Jn | Mngla Lksdp Exp | 12618 | Round the Week |
| Yesvantpur Jn – Kannur | Ypr Cannanore E | 16527 | Round the Week |
| Chandigarh – Kochuveli | Kerla S Kranti | 12218 | Wed, Fri |
| H Nizamuddin – Trivandrum Cntl | Nzm Tvc Superfast Exp | 22634 | Fri |
| Porbandar to Kochuveli | Kochuveli Express | 19262 | Thu |
| Dehradun to Kochuveli | Ddn Kcvl Superfast Exp | 12288 | Mon |
| Pune Jn – Eranakulam Jn | Poorna Express | 11097 | Sat |
| Bikaner Jn – Kochuveli | Bkn Kcvl Express | 16311 | Tue |
| Ajmer Jn – Eranakulam Jn | Maru Sagar Exp | 12978 | Fri |
| Amritsar Jn – Kochuveli | Asr Kcvl Exp | 12484 | Sun |
| Jammu Tawi – Mangalore Cntl | Navyug Exp | 16688 | Thu |
| H Nizamuddin – Trivandrum Cntl | Nzm Tvc Superfast Exp | 22654 | Mon |
| Dehradun – Kochuveli | Ddn Kcvl Superfast Exp | 22660 | Mon |
| Lokmanyatilak T – Kochuveli | Kcvl Garib Rath | 12201 | Mon, Fri |
| Kannur – Eranakulam Jn | Ernakulam Exp | 16306 | Round the Week |
| Kannur – Trivandrum Cntl | Jan Shatabdi | 12081 | Mon, Tue, Thu, Fri, Sat |
| Lokmanyatilak T – Trivandrum Cntl | Netravati Exp | 16345 | Round the Week |
| Bhavnagar Trmus – Kochuveli | Bvc Kcvl Exp | 19260 | Sun |
| Kozhikode – Trivandrum Cntl | Jan Shatabdi | 12075 | Round the Week |
| Veraval – Trivandrum Cntl | Vrl Tvc Exp | 16333 | Thu |