Thiruvananthapuram Backwaters Kerala
Trivandrum or Thiruvananthapuram, the capital city of Kerala is known for an array of reasons; the magical backwaters are one among them! Situated on the coastlines of the majestic Arabian Sea, this wonderful city serves as an ideal holiday destination for almost all the types of travellers including those who yearn to romance the silent backwaters while on their Kerala trip.
Located around 6km from this electrifying city, there are the mystical Thiruvallam Backwaters that are touted as the most bucolic among all other backwaters in Kerala. Also called the Veli Backwaters, this stretch of backwater is located in a quaint tourist village called Veli and is thronged by an astounding number of visitors on their backwaters holidays in Kerala.
If you are searching for the most amazing backwater destinations in Kerala, you must visit this gorgeous village from Trivandrum! While in here, you can also indulge in and enjoy some of the most adventurous water sports and activities in Kerala.
Best Time to Visit Thiruvananthapuram Backwaters
WiOctober to February is the best time to visit the Thiruvallam backwaters in Trivandrum. During this part of the year, visitors can enjoy pleasant climate along with ample of other tourist activities in and around the Veli backwaters.
Tourist Attractions Around Thiruvananthapuram Backwaters: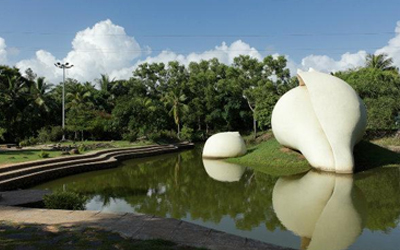 Hidden away amidst lush and evergreen vegetation, this pictorial lagoon is located within a proximity to Trivandrum. Wearing a quaint outlook, Veli Lagoon offers an ample of fun-filled tourist activities to its visitors. Pedal boating, speed boating, and rowing are some of the most sought after activities around this lagoon.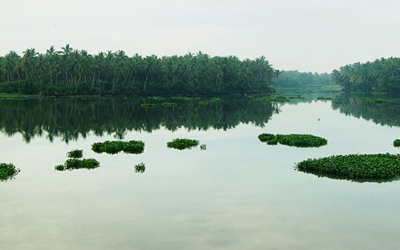 If you are travelling with the junior member of your family, a visit to the scenic Akkulam Lake is a must for you! A beautiful mix of salubrious nature and a leisurely ambience, it also serves as a wonderful picnic spot.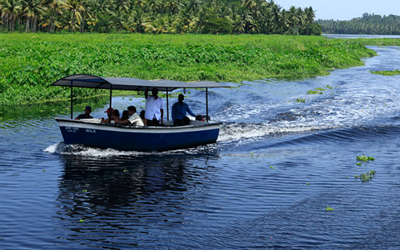 Located within the locales of Veli Lagoon, this rustic hamlet offers a perfect atmosphere to unwind oneself into the lap of Mother Nature. Fringed with an array of natural marvels, this tourist village is laced with an array of exciting activities.
Trains to Reach Thiruvananthapuram Backwaters
| Destination/From | Train Name | Train No. | Available Days |
| --- | --- | --- | --- |
| Delhi | NDLS-TVC Kerala Exp | 12626 | Round the Week |
| Delhi | SVDK-Cape Himsagar Exp | 16318 | Tues |
| Delhi | New Delhi Ac Exp | 04095 | Thu |
| Kolkata | SCL-TVC Exp | 12516 | Thurs |
| Mumbai | Kanyakumari Exp | 16381 | Round the Week |
| Mumbai | Nagercoil Exp | 16335 | Fri |
| Mumbai | VRL TVC Exp | 16333 | Thurs |
| Chennai | Trivandrum Mail | 12623 | Round the Week |
| Bangalore | Kanyakumari Exp | 16526 | Round the Week |
| Chennai Cntl | Tvc Chennai Express | 12696 | Round the Week |
| Chennai Cntl | Tvc Chennai Express | 12698 | Sat |
| Bangalore Cy Jn | Trivandrum Cntl | 16322 | Wed |
| Korba | Krba Tvc Express | 16327 | Sat |
| Bangalore Cy Jn | Trivandrum Express | 16321 | Thu |
| Hyderabad | Sabari Exp | 17230 | Round the Week |
| Gorakhpur Jn | Rapti Sagar Exp | 12511 | Thu, Fri, Sun |
| Indore Jn Bg | Ahilyanagari Exp | 22645 | Mon |
| Mangaluru Cntl | Trivandrum Exp | 16348 | Round the Week |
| Mangaluru Cntl | Maveli Exp | 16603 | Round the Week |
| Mangaluru Cntl | Ernad Exp | 16605 | Round the Week |
| Mangaluru Cntl | Malabar Exp | 16630 | Round the Week |
| Mangaluru Cntl | Parasuram Exp | 16649 | Round the Week |