Talking about water sports, adventure junkies will promptly think about destinations like Rishikesh and Goa! Well, these might be among the most enthralling water sports destinations in India, however, when it comes to God's Own Country Kerala, it overlooks most of the other destinations!
Believe it or not, Kerala is the home to an array of water sports that can make you forget about Rishikesh, Goa or other such destinations. And to bring in more to the thrilling options of water sports in Kerala, here is a list of some of the famous water sports destinations in God's Own Country:
1Kayaking:
A gorgeous tourist destination where the silent backwater casts their spell on the visitors, Kerala is one of the most stunning kayaking destinations in India. Connected by a network of backwaters, Alleppey or Alappuzha serves as an ideal kayaking destination in God's Own Country.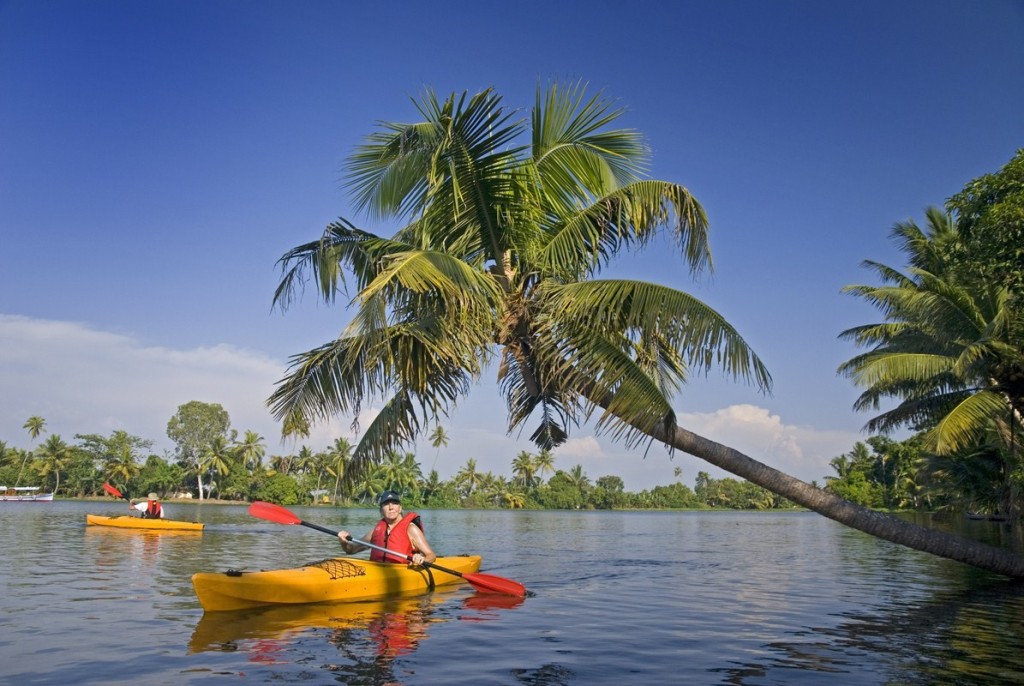 Kayaking in Alleppey is not just limited to rowing the silent backwaters! Kayakers during their exciting voyage, can also visit local villages, walk through paddy fields, interact with villagers, enjoy bird watching and indulge in several other activities in Alleppey.
2Surfing:
For an adrenaline junky who yearns to catch the thrill of surfing in Kerala, should plan a trip to Gods Own Country between December to March. It is during this period; water sports enthusiasts can enjoy the cool sea breezes while surfing through the might waves of the Arabian Sea.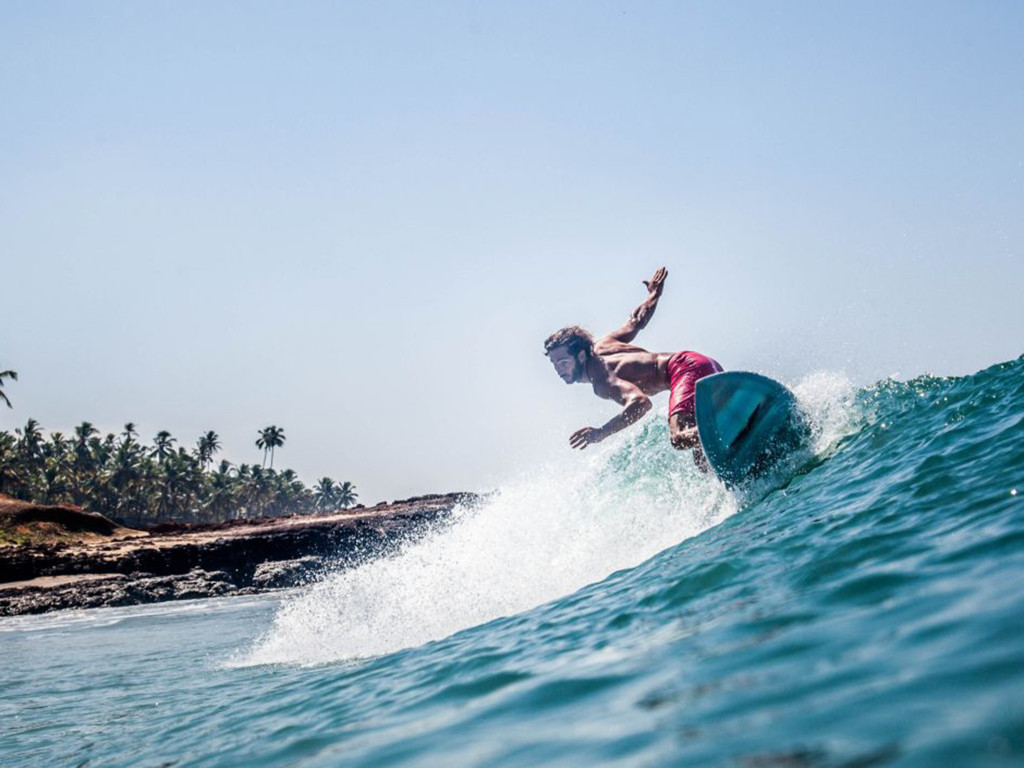 Whether a novice or an expert, Kerala offers ideal surfing destination to all types of surfers. While an expert can rent out a surf-board and plunge into the sea, a beginner can enrol in surfing class and learn the basics of surfing. Varkala Beach, Kovalam Beach, Kappil Beach, Poovar, Tiruchindur, and others are some of the most popular surfing destinations in Kerala.
3 Rafting:
Rishikesh can be called as the 'Mecca' for rafting enthusiasts; and every adventure junky knows this! But, the fact that is unknown to most of the thrill seeker is that even God's Own Country Kerala also offers enthralling options for rafting.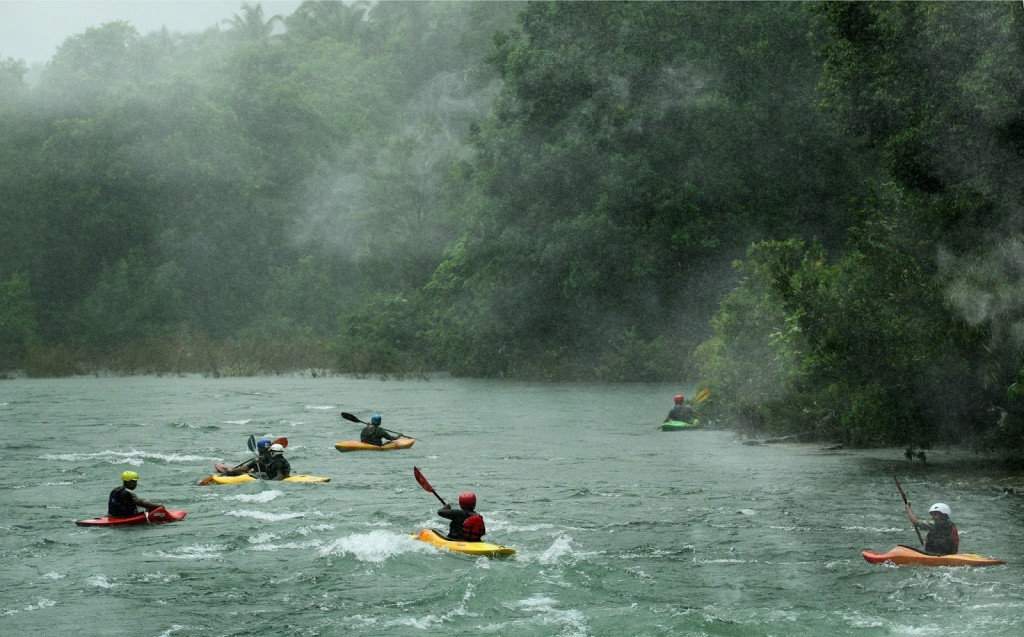 If you are among the adventure aficionados visiting Kerala during the months of June, July, August and September, you can indulge in this adrenaline pumping activity across many different places. Though the rapids are not as strenuous as of Rishikesh and other rafting destinations, water rafting in Kerala has its own thrill and excitement. Tejaswini River in Kannur district, Vythiri River in Wayanad, Iruvanjhipuza and Chalipuza rivers in Tusharagiri, and Boothathankettu in Ernakulam are some of the most sought after rafting destinations in Kerala.
4 Catamaran Sailing:
A traditional fishing boat that is mostly used by the fishing community in Kerala, a catamaran is small wooden boat that resembles a yacht, but with a hull on each side. Owing to its added agility, balance on the splashing waves and docility, it is highly preferred by those fishermen who goes deep into the sea for fishing.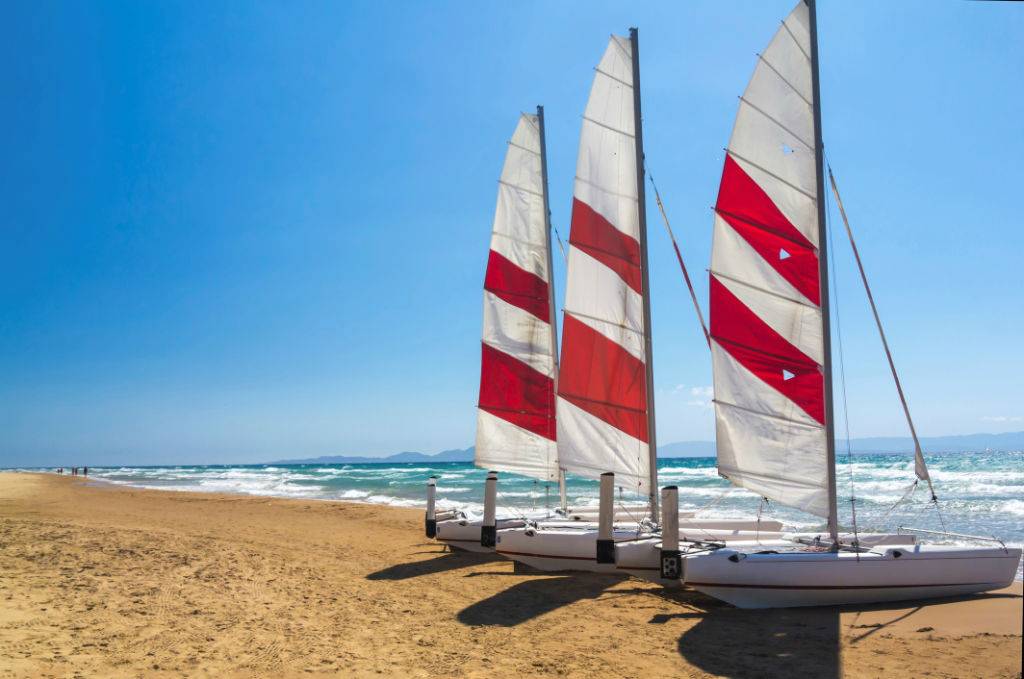 Though introduced recently, catamaran sailing is gaining immense popularity among the visitors to Kerala. With its rising popularity, even the size, mechanism and form of catamarans has undergone changes. In the recent times, Kerala tourism has introduced catamarans with modern propellers and are being driven by machines. Alappuzha, Kovalam and Varkala are three of the most popular catamaran siling destinations in Kerala.
5Bamboo Rafting:
While rafting might sound enthralling among the adventure seekers, bamboo rafting in Kerala will surely tickle your reflexes along with pumping up your adrenalines! Though not as fast as a usual or traditional raft, manoeuvring a bamboo raft can get very tricky at times!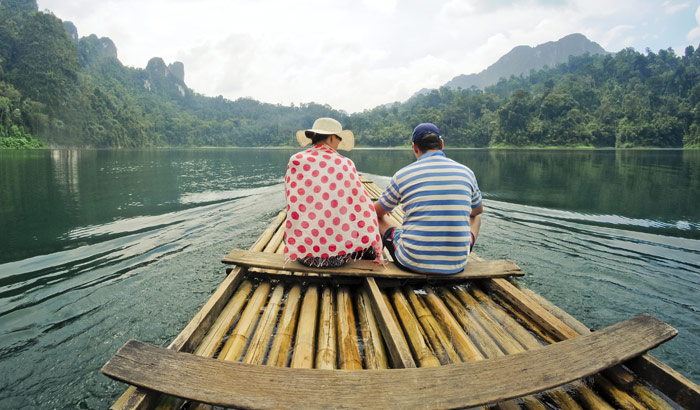 Across the whole of God's Own Country, the Periyar Lake flowing across Periyar National Park in Thekkady serves as the primal bamboo rafting destinations in Kerala. A sought after water sport in Kerala, it is equally enjoyed by adrenaline seekers and wildlife lovers. While rafting along the lake, rafter can spot a range of exotic wildlife species quenching their thirst beside the lake. Bird watching and nature photography can also be enjoyed while bamboo rafting in Kerala.
6 Parasailing:
An experience of a lifetime, parasailing in Kerala has its own charm and allurement! For those who wish to catch the thrill of flying high like a free-bird, can visit popular beaches like Varkala, Payyambalam and Alappuzha and indulge in this enthralling water sport in Kerala.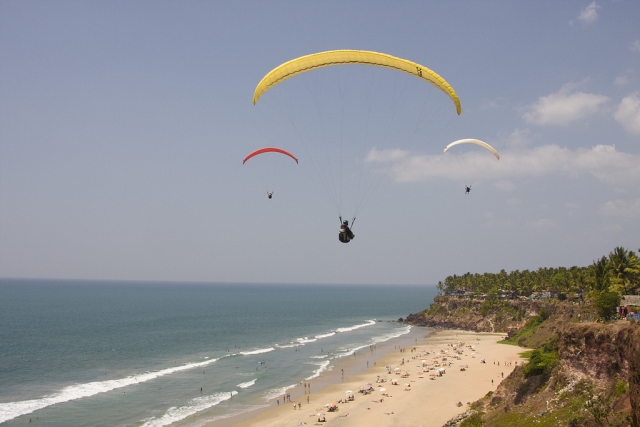 In this sport, the parasailer is usually harnessed safely with a parachute, which is then towed by either a land-vehicle or a speed-boat. As the pull increases, the parachute gets lifted high in the sky, allowing the parasailer to enjoy stunning views of the waterfronts while hovering in the azure sky.
7 Snorkelling:
Boasting of its waterbodies, Kerala can be called as a paradise for snorkelling! Adorned by the enchanting Arabian Sea and interconnected by a channel of turquoise lagoons and silent backwaters, it offers quite a few promising snorkelling destinations for those who yearn to discover the magical beauty of underwater life.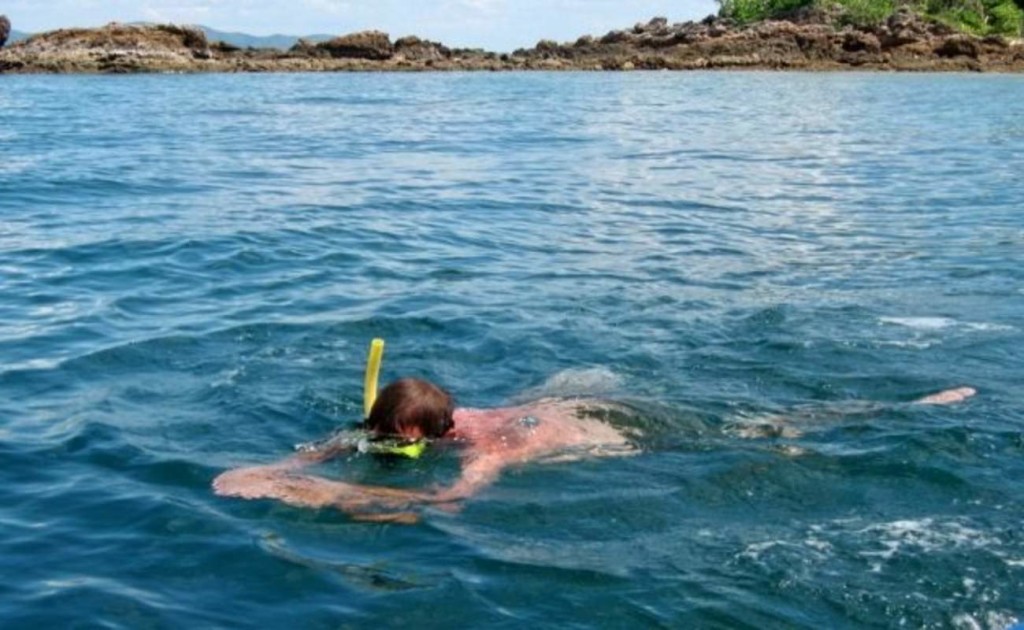 Shallow and clear water, rich and exotic marine life, gentle and friendly waves make Kerala a befitting snorkelling destination. For the snorkelling paramours, Kovalam Beach and Varkala Beach are the two most ideal snorkelling destinations in Kerala.
8 Scuba Diving:
Still untouched by the hands of commercialisation, Kerala flaunts a wide and exotic range of marine life. With so much to experience and discover, it entices scuba divers from almost all the corners of the globe to dive deep into its emerald water and behold its mesmeric charm and appeal.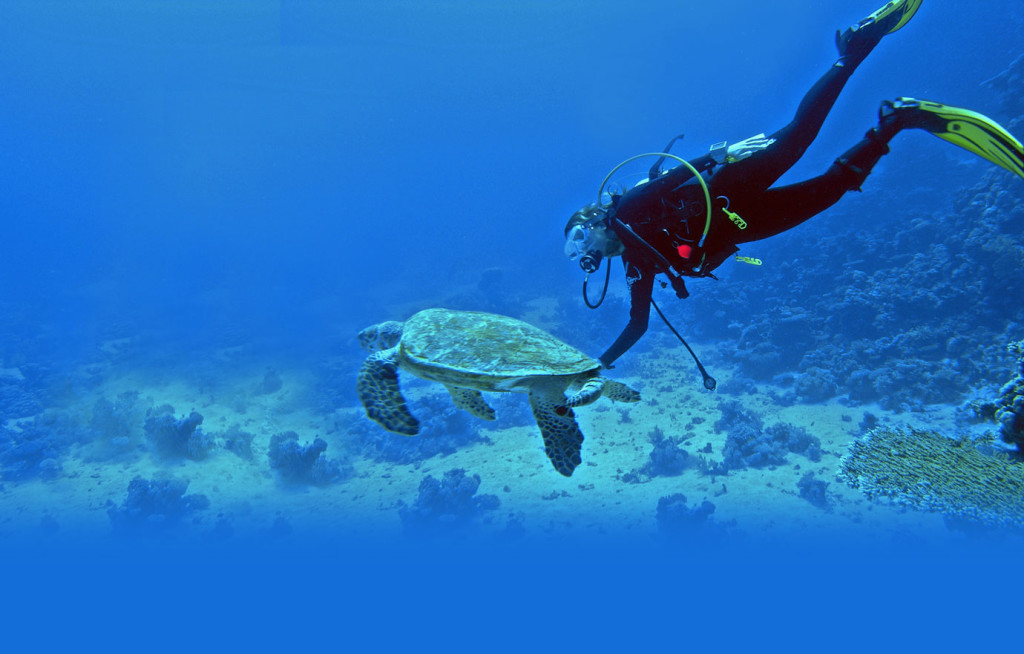 In addition to the kaleidoscopic range of underwater life, Kerala also offers several scuba diving training and learning centre to its visitors. With most of these centres being certified by PADI, one can expect a truly exhilarating and refreshing scuba diving experience in God's Own Country. To note here, destinations like Varkala Beach and Cochin are the most preferred scuba diving destinations in Kerala.