Located around 71km towards the north of Trivandrum, Kollam is one of the most kaleidoscopic backwater destinations in Kerala. A pristine tourist destination along the Malabar Coast, this port city in God's Own Country is located along the serene Ashtamudi Lake and is thronged by a large number of backwater travellers from all over the world.
While this pictorial city boasts of its myriad list of offerings to the visitors, the pristine Ashtamudi Lakes entices the backwater enthusiasts to plunge into the houseboats and manoeuvre across them. The city also has a large number of the hotels and resorts that offers exciting backwater experience in Kerala.
If you are searching for some of the best backwater destinations in Kerala, you should plan a Kerala trip soon, and visit this pictorial city along the banks of the Ashtamudi Lake. To note here, Kollam also has a large number of waterways that connects it to some of the other most popular backwater destinations in Kerala.
Best Time to Visit Kollam Backwaters
September to February is undoubtedly the best time to visit the Kollam backwaters in Kerala! This is the time when the city welcomes winter; temperature starts falling and the atmosphere gets mystical with the advent of the fogs and mists! This is also the ideal time to embark on houseboat cruises across the Ashtamudi Lake or avail the many different Kerala backwater tour package and enjoy the alluring charm of Kollam backwaters.
Tourist Attractions Around Kollam Backwaters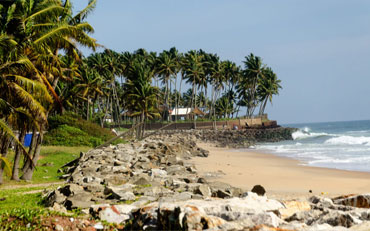 Kollam Beach is surely a place that you cannot afford to miss while romancing the Kollam Backwaters. A paradise for the beach goers, this getaway is also popular canal cruises, village tours, and much more exciting activities.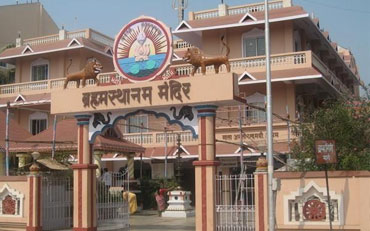 Mata Amritanandamayi Math
A spiritual locale around Kollam Backwaters that ushers humanity, Mata Amritanandamayi Math is thronged by global tourists. One can indulge in evening prayers, meditate, or can simply visit this pious place for peace of mind and soul.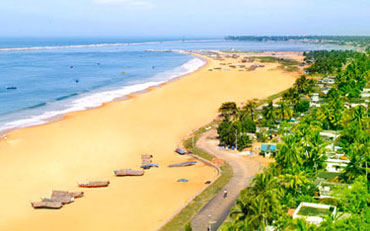 Located within a close distance with the picturesque Kollam Backwaters, this beach flaunts its sparkling coastline to entice visitors from different corners of the globe. Swimming, sun basking, fishing, boat rides, surfing, and catamaran rides are some of the sought after activities around Thangasseri Beach.
Trains to Reach Kollam Backwaters
| Destination/From | Train Name | Train No. | Available Days |
| --- | --- | --- | --- |
| Chennai Egmore | MS-QLN SPL Fare Exp | 06049 | Mon |
| Visakhapatnam | VSKP-QLN WEEKLY Exp | 18567 | Thu |
| Hyderabad Decan | HYB QLN Spl | 07141 | Mon, Wed, Fri, Sun |
| Visakhapatnam | VSKP QLN Spl | 08567 | Wed, Sat |
| Kanyakumari Kollam Jn | CAPE-QLN Passr | 66305 | Mon, Tue, Wed, Thu, Sat, Sun |
| Kottayam | KTYM-QLN Passr | 56305 | Round The Week |
| Nizamabad | SABARIMALAI Spl | 07613 | Fri |
| Adilabad | ADB-QLN | 07509 | Thu |
| Edamann | EDN-QLN Passr | 16303 | Round the Week |
| Machilipatnam | MTM-QLN Passr | 07221 | Sat, Sun |
| Vijayawada Jn | BZA-QLN Passr | 07219 | Wed, Thu |
| Kottayam | KTYM-QLN PASSR | 56393 | Round The Week |
| Vijayawada Jn | BZA-QLN | 07213 | Sat |
| Howrah Jn – Trivandrum Cntl | HWH-TVC SPECIAL Exp | 02508 | Sat |
| Secunderabad Jn – Kochuveli | SC-KCVL HSP | 07119 | Fri |
| Kamakhya – Kochuveli | KYQ-KCVL SPL FARE Spl | 06335 | Wed |
| H Nizamuddin – Trivandrum Cntl | Rajdhani Exp | 12432 | Tue, Wed, Sun |
| Amritsar Jn – Kochuveli | KCVL EXPRESS | 12484 | Sun |
| Silchar – Trivandrum Cntl | SCL – TVC Exp | 12508 | Thu |
| Gorakhpur Jn – Trivandrum Cntl | RAPTI SAGAR Exp | 12511 | Thu, Fri, Sun |
| Silchar – Trivandrum Cntl | GHY TVC Exp | 12516 | Tue |
| Chennai Cntl – Trivandrum Cntl | TRIVANDRUM Mail | 12623 | Round the Week |
| New Delhi – Trivandrum Cntl | KERALA Exp | 12626 | Round the Week |
| H Nizamuddin – Trivandrum Cntl | SWARNA JAYANTI | 12644 | Fri |
| Bikaner Jn – Kochuveli | BKN KCVL Exp | 16311 | Tue |
| Mangaluru Cntl – Trivandrum Cntl | TRIVANDRUM Exp | 16348 | Round The Week |
| Ksr Bengaluru – Kanyakumari | KANYAKUMARI Exp | 16526 | Round The Week |
| Hyderabad Decan – Trivandrum Cntl | HYB-KCVL SABARI Exp | 17230 | Round The Week |
| Chandigarh – Kochuveli | Sampar KRANTI Exp | 12218 | Wed, Fri |
| Howrah Jn – Tirupati | HWH CAPE Spl | 05906 | Mon |