A city impassioned by rich history, flavoured by satisfying aromas of spices, indigenous cultural values, and a paramount contemporary outlook, Thiruvananthapuram (or Trivandrum) is a visual treat for the visitors! The capital city of Kerala, this kaleidoscopic metropolis showcases a striking contrast to everyone who visits the city.
Magnified by the beauty of the Arabian Sea, Trivandrum has been revered as the 'Evergreen City of India' by Mahatma Gandhi for obvious reasons! Splashed with remarkable historic landmarks, scenic places, rewarding waterbodies, and gladsome tourist options, this city has so much to offer to its visitors. And to make you feel its beauty and grace, here is a list of some of the stunning places to visit in Thiruvananthapuram:
1Kovalam
The 'Mecca' for the beach goers, 'Utopia' for the hippies, and a paradise for the leisure seekers, Kovalam is undoubtedly the most coveted place to visit in Thiruvananthapuram! Located only 18km from the main city-centre, this stunning beach town can put any other beach destinations to shame.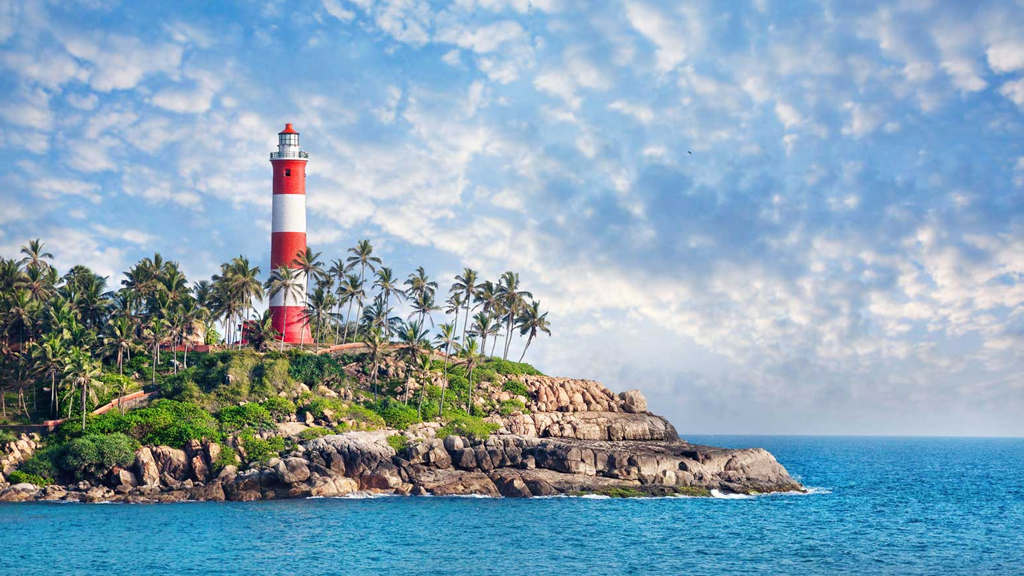 A cult among the beach lovers, Kovalam is the home to three picturesque beaches in Kerala: Lighthouse Beach, Hawah Beach and Samudra Beach. A rocky promontory alongside Kovalam's shoreline, makes all the three beaches ideal for swimming, sunbathing, skin tanning, and several other water activities. In short, this is one destination, you will always regret for not visiting!
2Meenmutty and Kombaikani Falls
Are you an ardent fan of nature's miraculous beauty? Or are you an adrenaline seeker? Well, if you are among any of these, or fits into both the categories, you must visit the gushing Meenmutty Falls. Located within a proximity to Neyyar Reservoir, this three tier cascade is nestled amidst dense thickets. To reach the falls, visitors must completed a 2km upstream trek.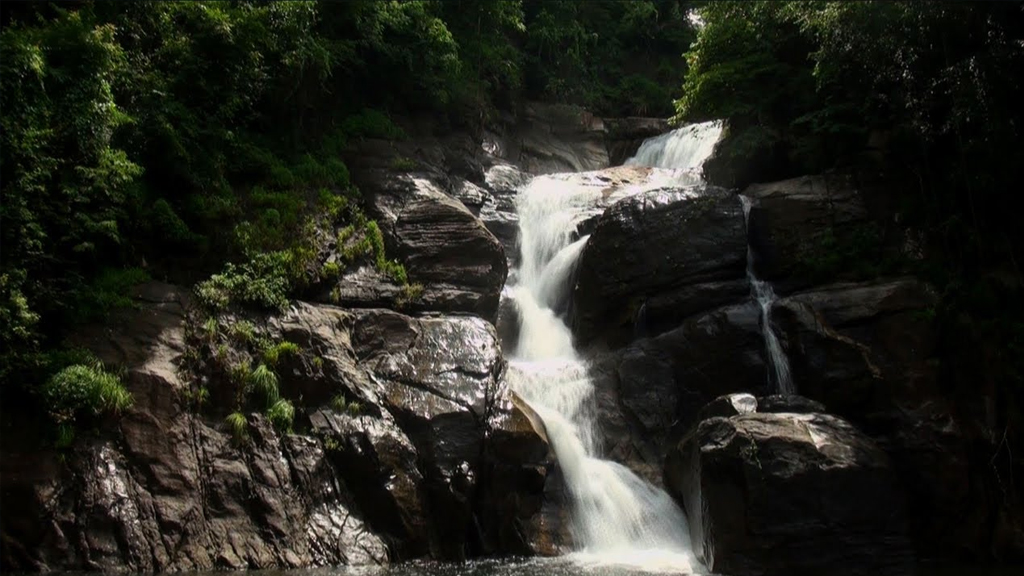 While unravelling the beauty of Meenmutty Falls, one can also trek up to the picturesque Kombaikani Falls. Flaunting its beauty only 2km away from the Meenmutty, even this waterfalls also require the visitors to complete a short, yet rewarding trek to reach its base!
3Varkala Beach
If you are searching for places to visit in Thiruvananthapuram that can rejuvenate your soul with its beauty and appeal, Varkala Beach is the one for you! Located around 51km towards the north of Trivandrum this surreal and tranquil beach will surely fulfil all your yearnings.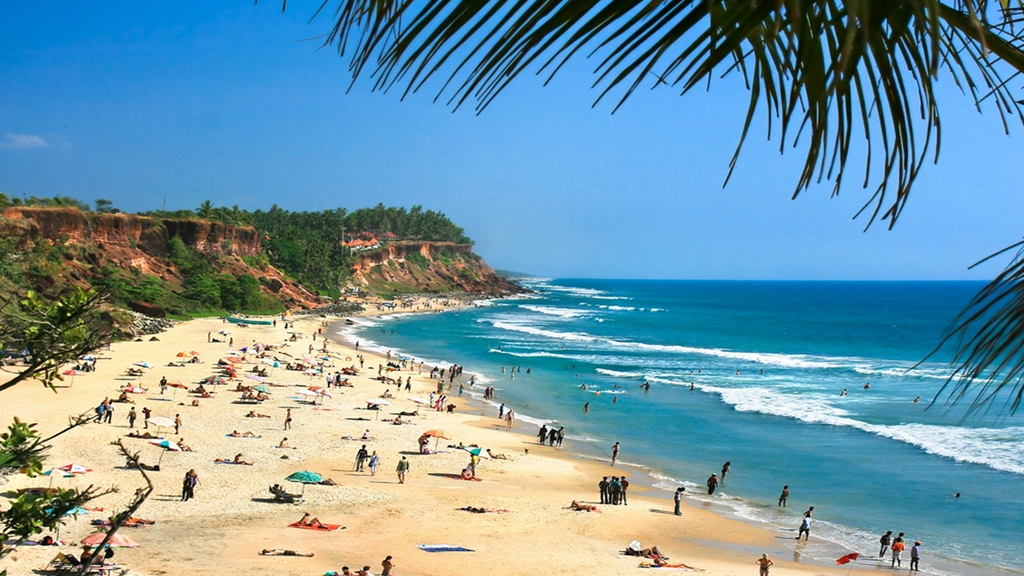 Also called the 'Papanasham Beach', Varkala is only beach where cliffs edge the shorelines a unique formation called 'Varkala Formation'. Owing to these cliffs, water around the beach remains extremely calm and hosts ample of exciting water sports and activities.
4Napier Museum
If the flamboyant and colourful cultures and traditions of Kerala excites you, Napier Museum is the place that can get you acquainted with more of them! Located right in the middle of the metropolis, this heritage collection house was named after John Napier, the then Governor General of Madras (now Chennai).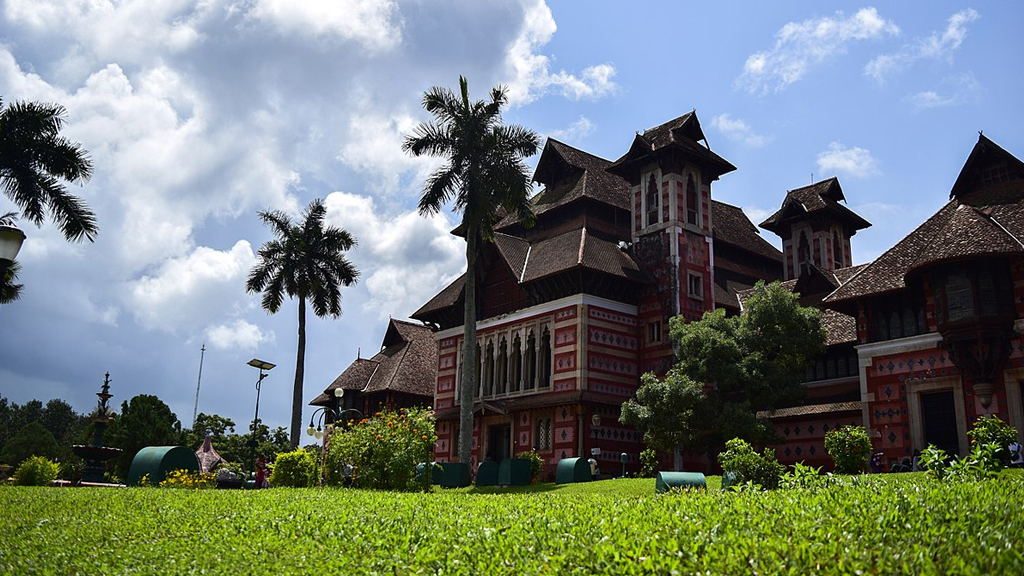 Built in around the 19th century, the museum building is itself an architectural marvel; it has a natural air conditioning system. Napier Museum exhibits a wide range of artefacts, ivory carvings, bronze idols, ancient belongings, artworks, paintings, scriptures, and lot more.
Museum Timings: Wednesday (01:00 – 02:45PM), Week (10:00AM – 05:00PM)
Entry Fees: Adults (INR 10), Children (INR 4)
NOTE: Photography is strictly prohibited inside the museum premises.
5Ponmudi
The 'Golden Peak' or Ponmudi is a highly celebrated destination for the honeymooners, a soul-stirring hill station for the leisure seekers, and a treasure box for the nature lovers. Seated at an elevation of 1,100m, this is undeniably one of the most magnificent hill stations in Kerala and also a not-to-be-missed place to visit in Thiruvananthapuram!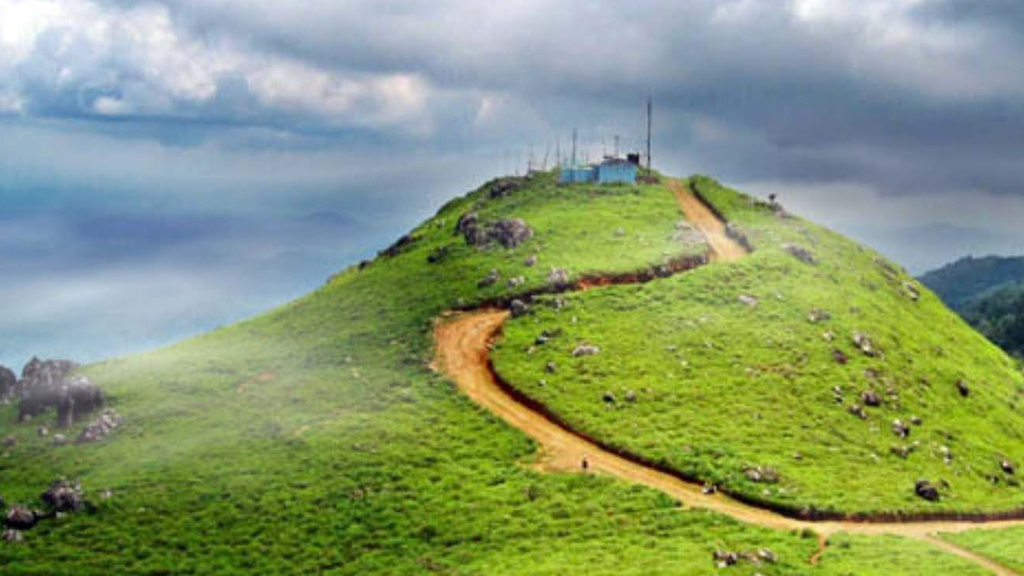 Located only 55km away from the state's capital city, this mist-clad hill station enjoys a pleasant climate throughout the year. Scenic hills and slopes, pristine outlook, pleasant climate, and a soul-stirring ambience makes Ponmudi a gladsome tourist spot near Trivandrum.
6Shangumugham Beach
A beach where the open blue sky fondles the spouting waves of the Laccadive Sea (or Lakshadweep Sea)! A beach where the striking sunrays tickles the golden sands, and casts a magical spell on the visitors! A beach where leisure meets religious spirit, and forms an eternal bonding! Yes, that's the beauty of the scenic Shankumugham Beach!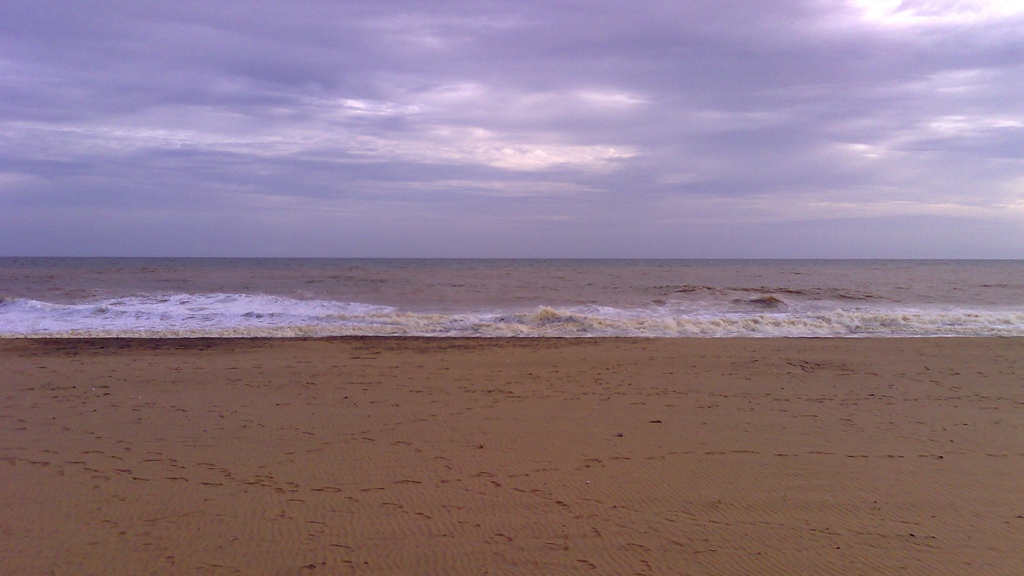 Flashing its mesmeric charm and appeal towards the western side of Kerala's capital city, this beach retreat could be an utmost relaxing as well as exciting destination for the beach lovers. Dotted with several fishing villages and eateries, Shankumugham Beach is also regarded as 'Arattukadavu' or Lord Sri Ananthapadmanabham, who is considered the presiding deity of Trivandrum.
7Neyyar Dam & Wildlife Sanctuary
A confluence point, where rustic cultures meets with nature's undulated beauty, Trivandrum holds many secrets in its bosom! The Neyyar Wildlife Sanctuary and Dam are two such secrets that can make you fall in love with this city. While the wildlife sanctuary is located onto the southeast edge of the mighty Western Ghats, the dam is situated within the vicinity of the forest reserve.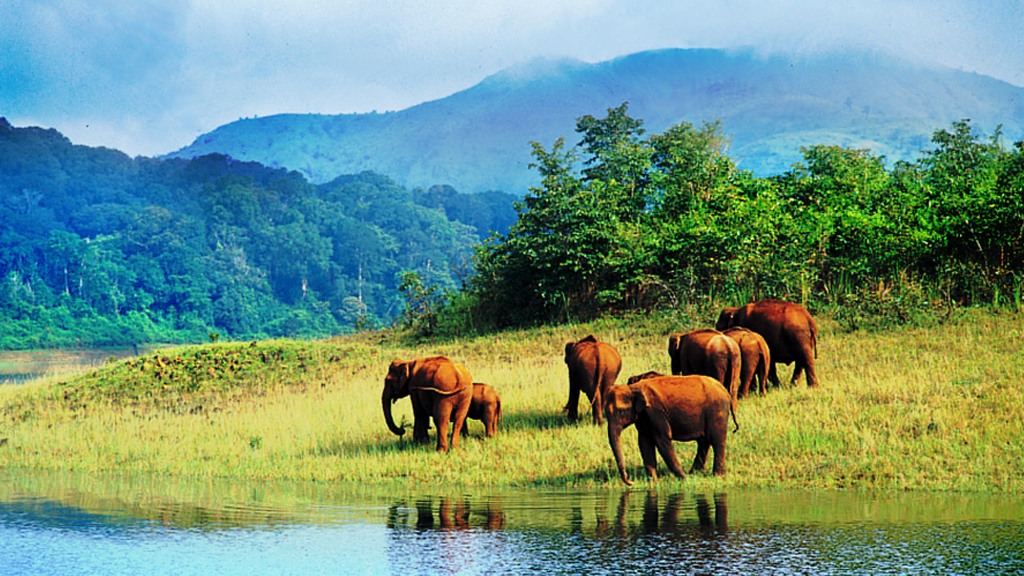 A natural dwelling of a diverse range of flora and fauna, Neyyar Wildlife Sanctuary boasts of its rich population of tiger, leopard, elephant, sloth bear, mugger crocodile, Nilgiri tahr, and other exotic species. On the other hand, Neyyar Dam offers a blissful locale to go for fun-picnics, nature photography, boating, and yoga. Located within the proximity to the dam, is the much acclaimed Crocodile Rehabilitation and Research Centre, which also serves as a major tourist attraction in Thiruvananthapuram.
8Poovar
Nature's marvel comes in all shapes, sizes, and form; God's Own Country is home to a range of such wonders! And one among these natural wonders is the stunning town called Poovar. Located towards extreme south of Trivandrum, this town is known for its infectious beauty and irresistible charm!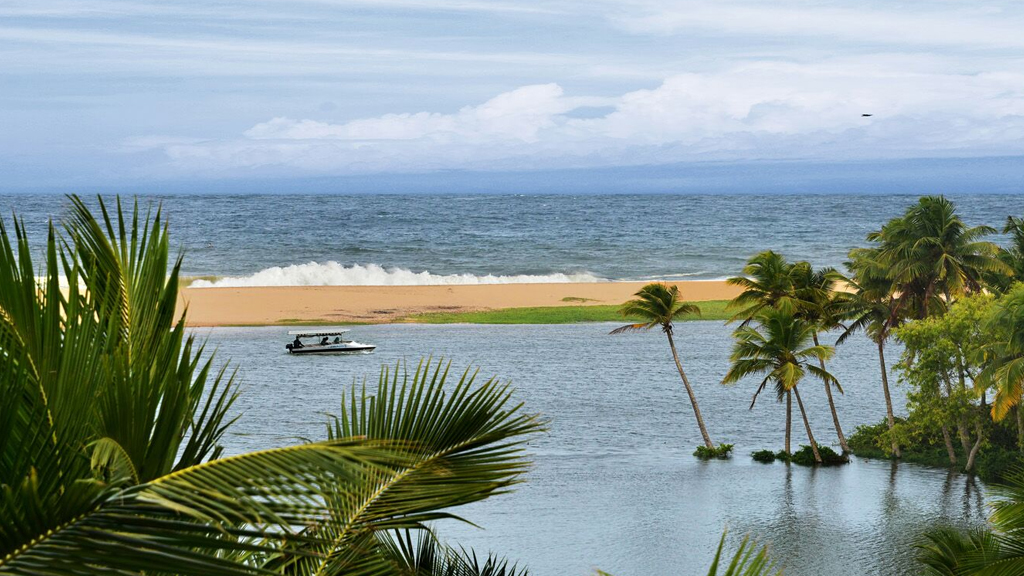 Once a major port, Poovar has been an important trading centre, and is characterised by its vivid history. At present, the town attracts an overwhelming crowd who yearns to spend quiet, tranquil and blissful moments while searching for beautiful places to visit in Thiruvananthapuram!
9Peppara Dam & Wildlife Sanctuary
Built in 1983, Peppara Dam is among the most imposing artificial water reservoirs in the entire of Kerala. Constructed around the emerald Karamana River to store and provide drinking water, this dam site offers a scenic vista to soak in the untouched beauty of Mother Nature.
Surrounding this wonderful dam, is the captivating Peppara Wildlife Sanctuary. Spreading across 75 square kilometres, this wildlife protected area is a much sought-after destination among the wildlife enthusiasts. Visitors here, can easily spot exotic predators like tiger and leopard, mammals like elephant, sambar, Nilgiri tahr, bonnet macaque, and a large number of birds, floral species, reptiles, fishes, and amphibians.
10Kowdiar Palace
A royal palace that seem to be direct out of any 'Harry Potter' series or a fairy tale, the Kowdiar Palace is another imposing site in Trivandrum! Built as a wedding gift by Maharaja Sree Chithira Thirunal for Maharani Karthika Thirunal Lakshmi Bayi in 1934, this elegant palace building is the official residence of Trivandrum's erstwhile families.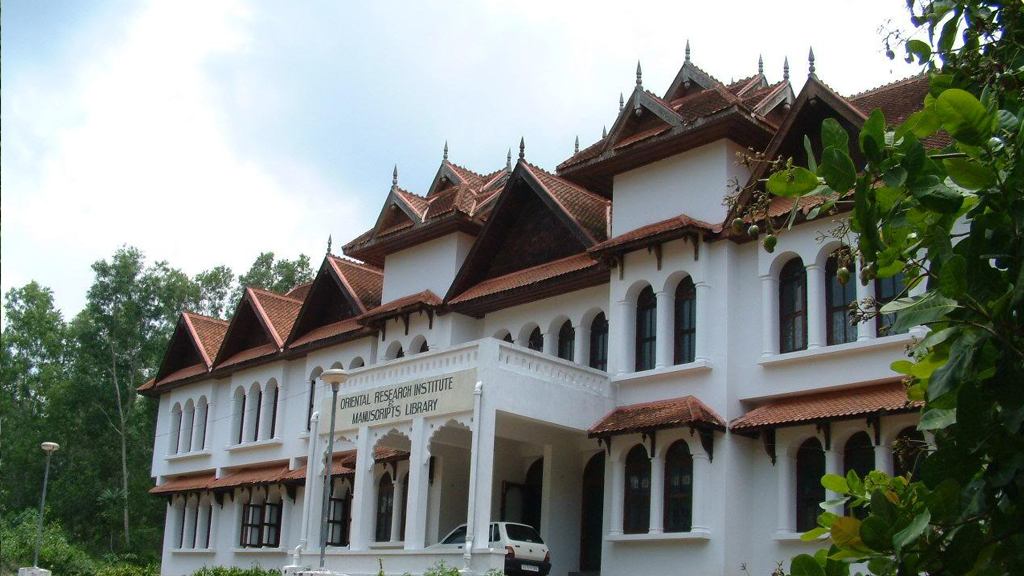 Stunning architecture, flamboyant look, wooden elevators, minutely carved designs, and a collective of 150 rooms, make this three-storied palace a must visit place in Thiruvananthapuram. Though many decades old, Kowdiar Palace still resonates the true essence of Kerala's rich art, culture, history, music, and literature.
11Veli Tourist Village
Not every day in your life, you get to witness the confluence of a never-ending sea with that of an alluring river! Well, if you happen to visit the Veli Tourist Village in Kerala, you can behold this rare phenomenon, and fill in your travelogue with exciting stories!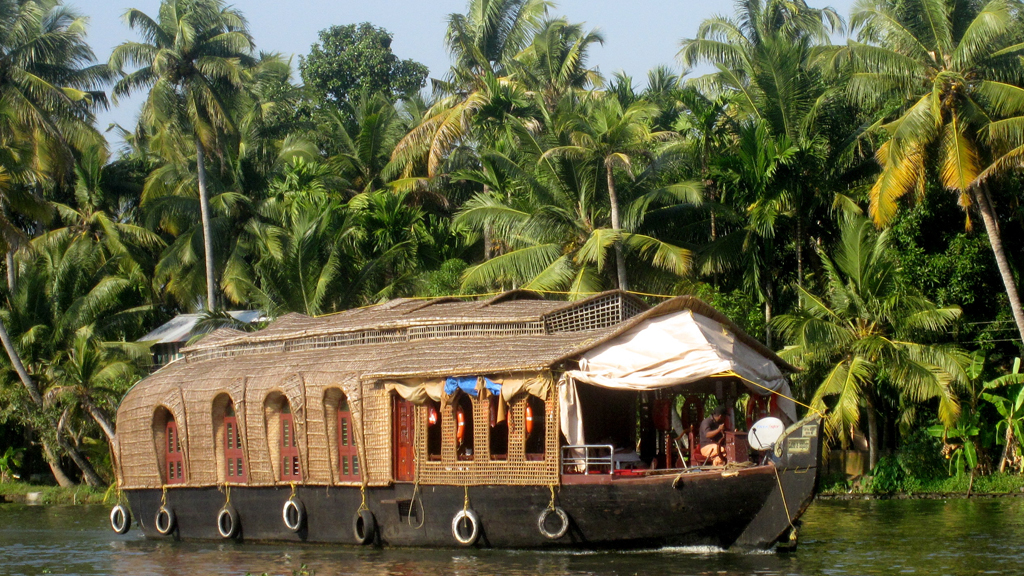 Located around 12km away from Trivandrum, Veli is a pictorial lagoon where the Veli Lake meets the vast Arabian Sea. While in the state's capital, you must visit this beautiful hamlet and witness how the sweet water gets mixed with the salty water. The sight itself is an experience of its kind, and is a must to have at least once in a lifetime!
12Anchuthengu Fort
The course of time might have changed the history, but the fortifying walls of Anchuthengu Fort (or Anjengo Fort) still resonates its glorious tales! Located in the city of Varkala; this distinguished fortress was the first establishment of East India Company on the Malabar Coast that was used to signal the ships coming from England.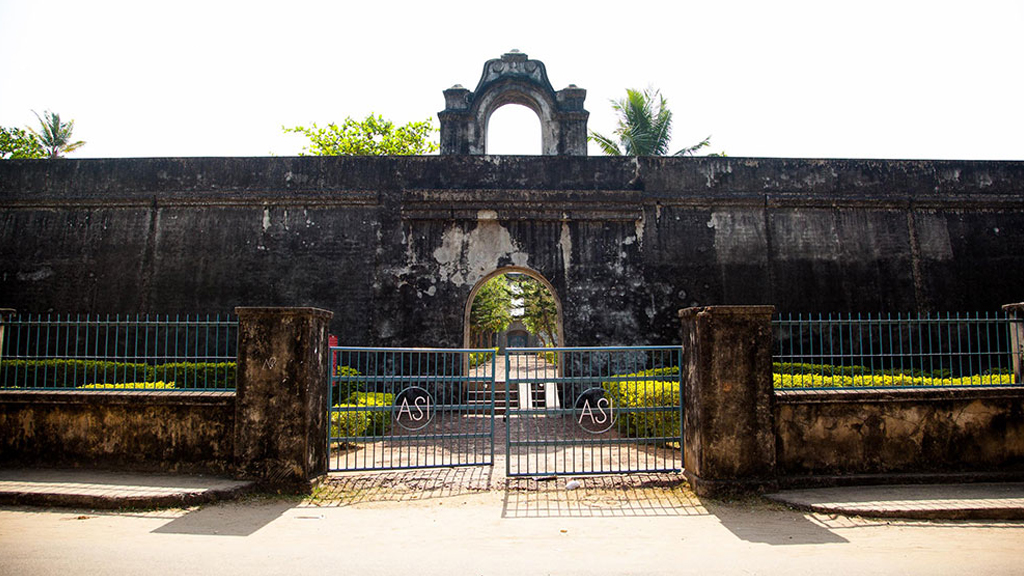 13Aruvikkara Dam
How about a break from the usual schedule, and unwind yourself into a locale where tranquillity prevails in every bit? Well, if this sounds tempting, you must head towards the Aruvikkara Dam site. Standing strong alongside the banks of Karamana River, this water reservoir is a major source of water to the capital city.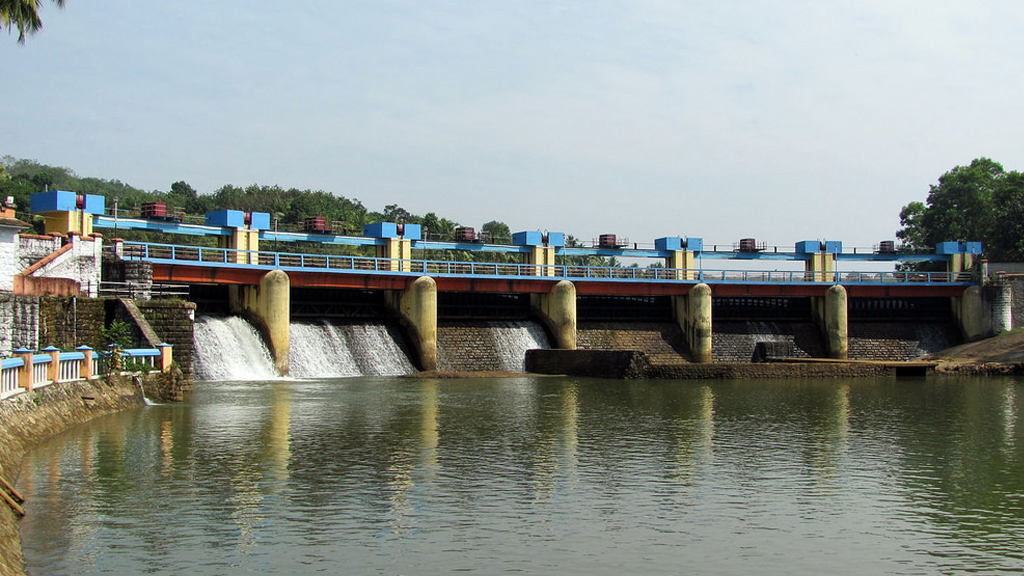 Aruvikkara Dam offers a pleasant site where one can sit back or laze around while soaking in the untouched beauty of nature. Located around 15 from the city centre, this place also serves as a sacred ground for the worshippers of Goddess Durga. Devotees throng the Bhagavathi Temple which is located adjacent to the dam site to seek blessings from the Goddess.
14Agasthyakoodam
Be it with the beauty and charm of ocean, backwaters, beaches, or lofty peaks, Kerala never ceases the amaze its visitors! And while talking about towering peaks, Agasthyakoodam or Agastya Mala brags a prominent rank. Reaching an astounding height of around 1868m above the sea level, it is in fact the second highest peak in the state.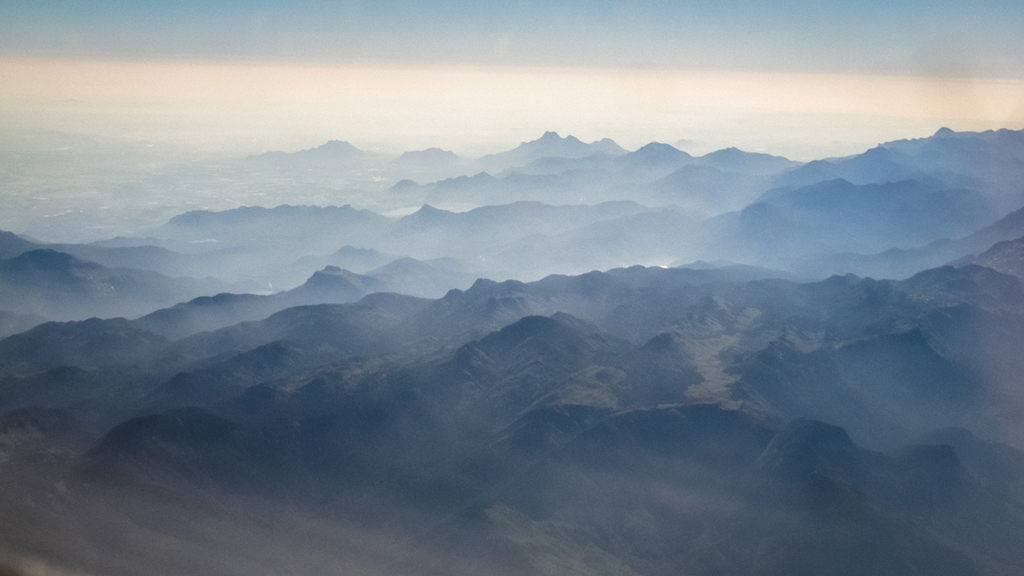 Located with the picturesque Neyyar Wildlife Sanctuary, this peak is a sprawling ground to a wide range of local and migratory birds, rare and exotic orchids, mosses, ferns, lichens, and other medicinal plants. Adventure seekers make it to this peak to pump in some adrenaline and catch the panoramic views of the surroundings. However, trekking is a subject to the local authorities and is not always permitted!
15Vizhinjam
Fishing and Ayurveda has always been two integral parts of Kerala's lifestyle and culture. To have a livelier glimpse of these two in God's Own Country, you must visit the quaint hamlet of Vizhinjam. Located only 3km from Kovalam and around 22km from Trivandrum, this sleepy village is also known for its rich history and pristine outlook.
.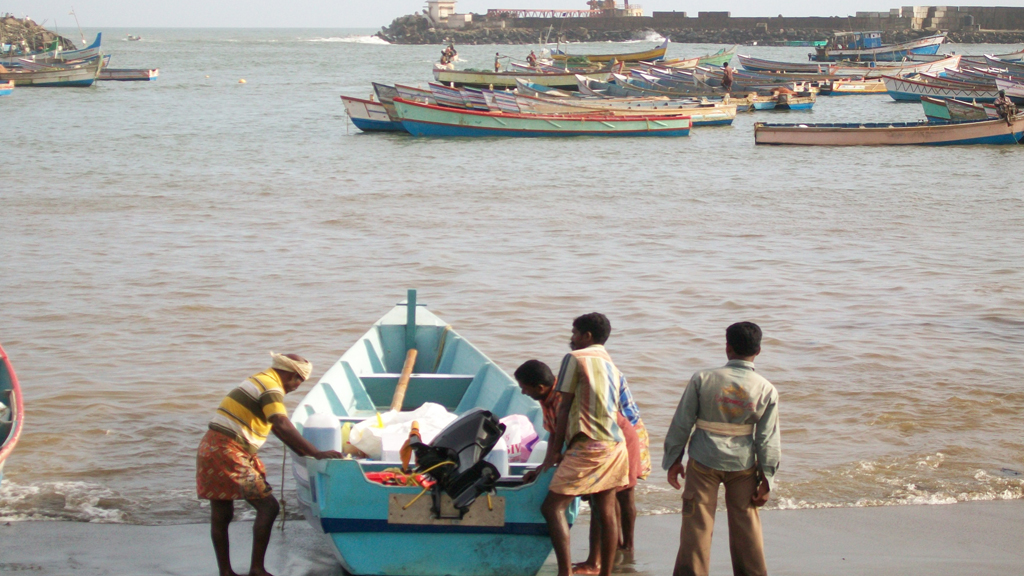 Step into an enchanting world of love and romance with a trip to this gorgeous beach in Kerala! Make your significant half feel how much you adore him/her. Let your emotions fondle your partner, and the scenic beauty of Alleppey Beach do the magic for you!
16Koyikkal Palace
A heritage site that you should not miss, Koyikkal Palace was once the official residence of Umayamma Rani. A two-storey elegant building built during 1677-1684, this stately home belonged to the Venad Royal Family. Built in Malabar style with mammoth shaped gabled roof, this royal building is undoubtedly one of the most admired places to visit in Thiruvananthapuram.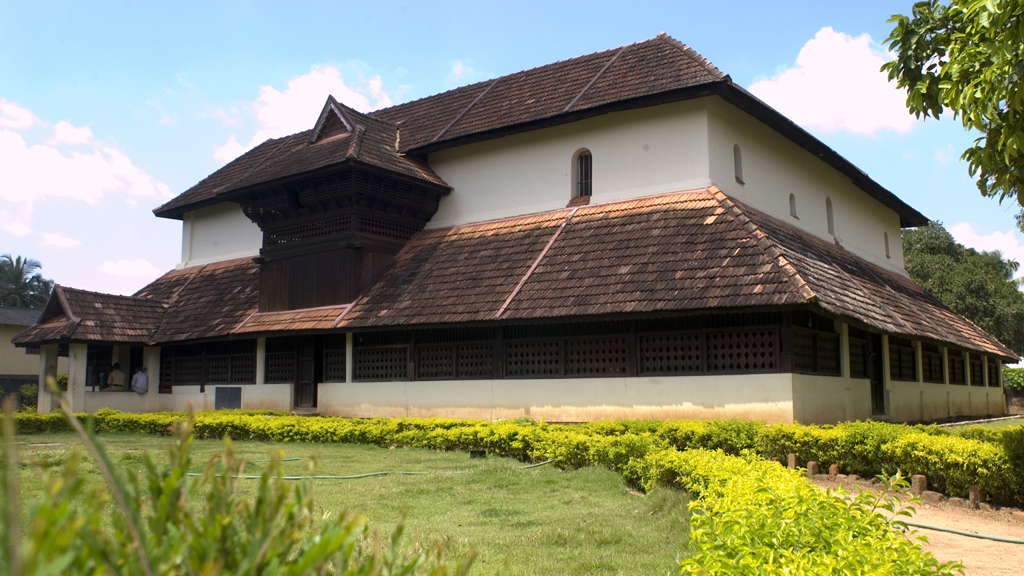 Koyikkal Palace also houses two heritage museums: Folklore and Numismatics museums. Folklore Museum boasts of being the only place that houses a 'Chandravalayam'; a rare percussion instrument played while reciting the story of Lord Shiva. Numismatic Museum has a large collection of rare and ancient coins; some of the coins found here are revered as the oldest coins found in Kerala.
17Akkulam Tourist Village
Serenity has an eternal bonding with God's Own Country! Taking this heavenly bond further, there is the gorgeous Akkulam Tourist Village, which is often touted as backwater lover's paradise. Located only a couple of miles from Trivandrum International Airport, this calm and pictorial hamlet could be an ideal destination for leisure seekers and nature lovers as well!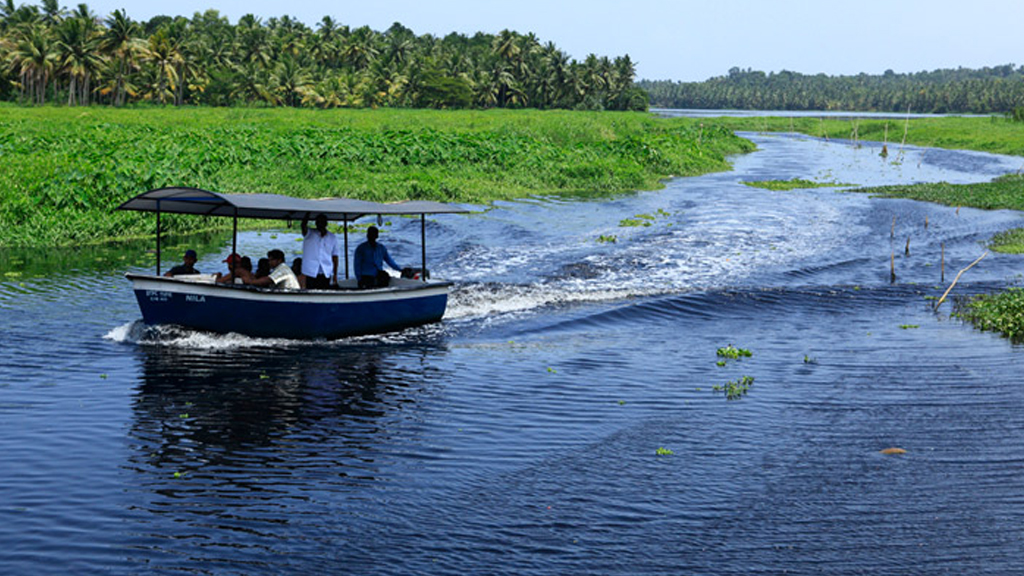 A resplendent destination on the banks of the alluring Akkulam Lake, this tourist village offers an exciting range of tourist activities. While here, visitors can indulge in boating, swimming, relish the views of an artificial waterfall, and lot more; the village also has a children's park equipped with swings, sliders, see-saw, and other fun-filled elements.
18Thiruvallam Backwaters
One of the least explored backwater stretch in Kerala, the Thiruvallam Backwaters is among the most scenic and pristine places to visit in Thiruvananthapuram. Located only 6km from the main city centre, this palm fringed backwater destination is still untouched by the outer world, and offers a uniquely soothing experience to the visitors.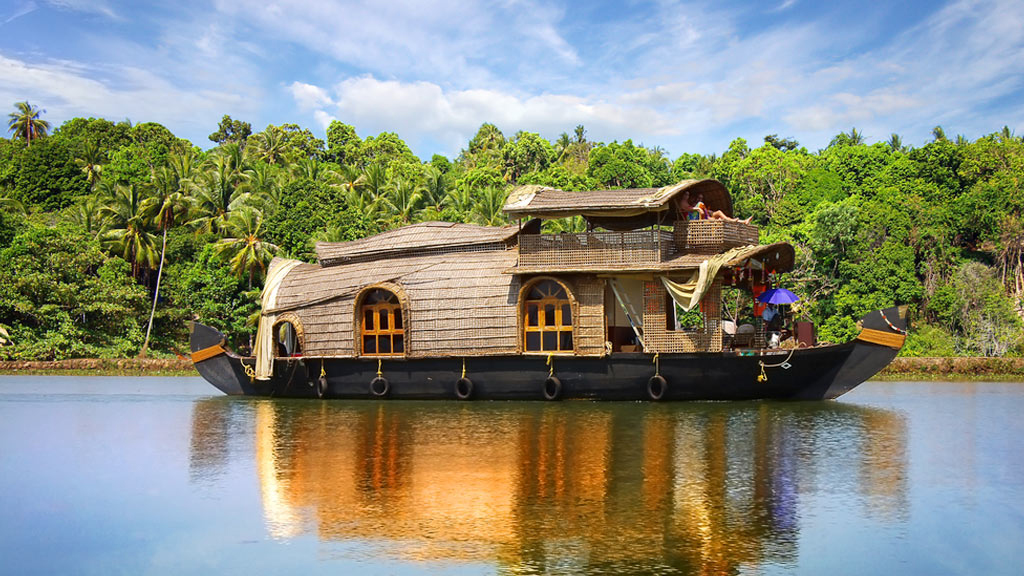 Nestled amidst other major Trivandrum tourist attractions like Akkulam Lake, Parashurama Temple, Veli Tourist Village, and others, Thiruvallam Backwaters is surely a must visit destination. Adding more, visitors here can opt for short backwater cruises and embrace its miraculous beauty!
19Kanakakkunnu Palace
An elegant landmark of Kerala's past, Kanakakkunnu Palace was built by Sree Moolam Thirunal, the then ruler of Travancore. Commissioned in 19th century, this tasteful palace served as an entertaining ground to the royal guests, who mostly relished non-vegetarian foods as the Travancore Royal Family's official residence served only vegetarian foods.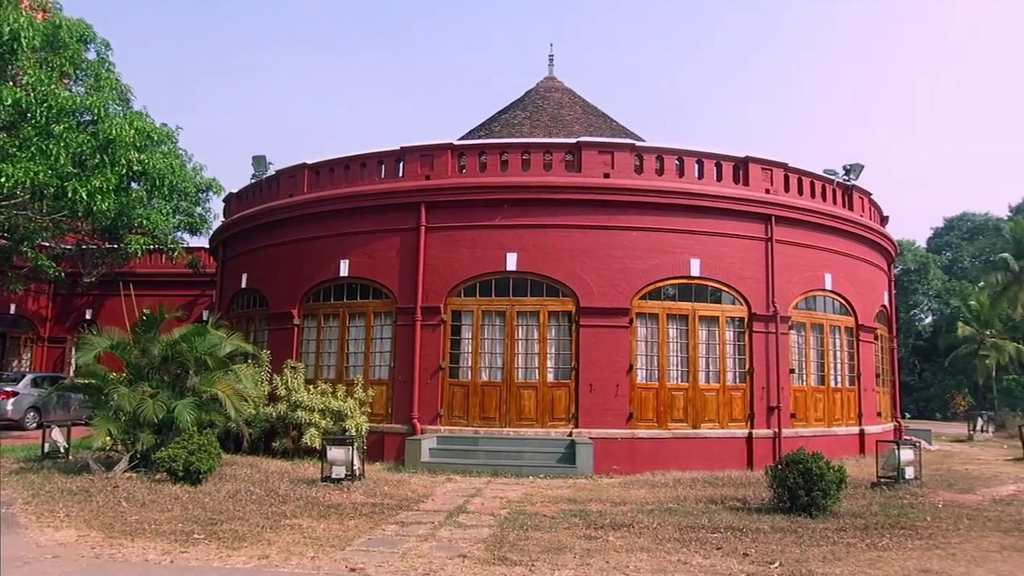 Built in Colonial architecture with typical Kerala style facade, the palace was later used as a popular summer destination. Mammoth crystal chandeliers, exquisite pieces of royal furniture, and an open-air auditorium serves as the main attractions of Kanakakkunnu Palace. Adding more, there is a grand display of wooden carvings, intricate designs, royal artefacts and belongings. Located right at the heart of the city, this flamboyant palace is definitely a landmark you should not miss while searching for places to visit in Thiruvananthapuram.
20Paripally
A tiny, yet picturesque hamlet town that borders Trivandrum and Kollam district of Kerala, Paripally is among the much coveted places to visit in Thiruvananthapuram. Enhancing the natural magnificence of this rustic charm of this village is the annual 'Paripally Gajamela' that attracts a large number of crowd and devotees to this village.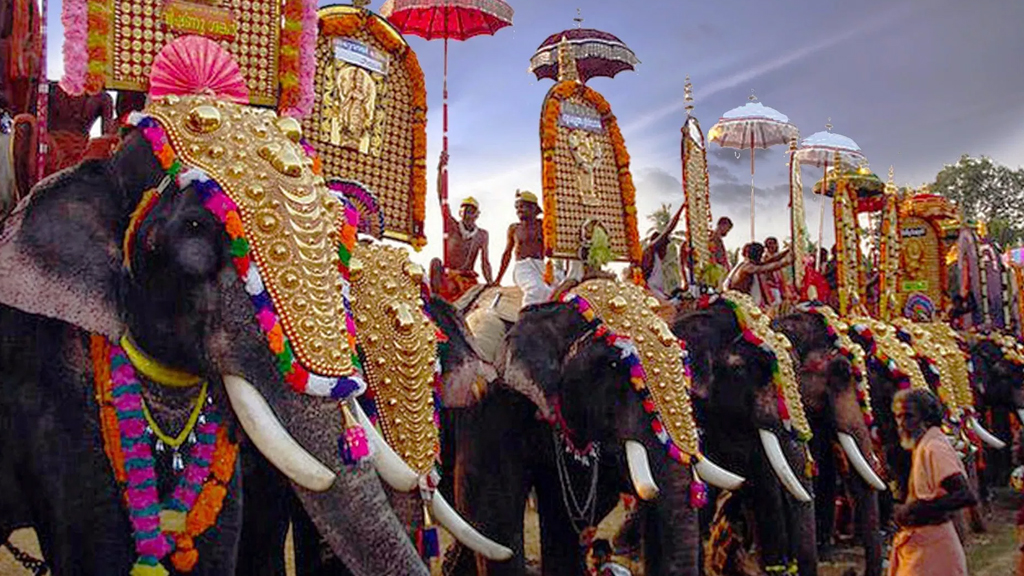 Held on the 5th of March every year, this religious mela (fair) is hosted at the Paripally Kodimootil Sree Bhadrakali Temple. If you happen to attend this annual festival, you could witness a unique ritual wherein elephants are offered to the deities. The entire of Paripally assembles together, celebrates the mela with much gusto while being accompanied by cultural programs.
21Sree Padmanabhaswamy Temple
Be it culture or devotion, Trivandrum boasts of being one of the richest places in the entire of Kerala. And the sacred Sree Padmanabhaswamy Temple is a perfect example of this! Revered as the richest temple in the world, this religious establishment is dedicated to Lord Vishnu, and the Lord is found in 'Anantha Shayanam' posture within the temple complex.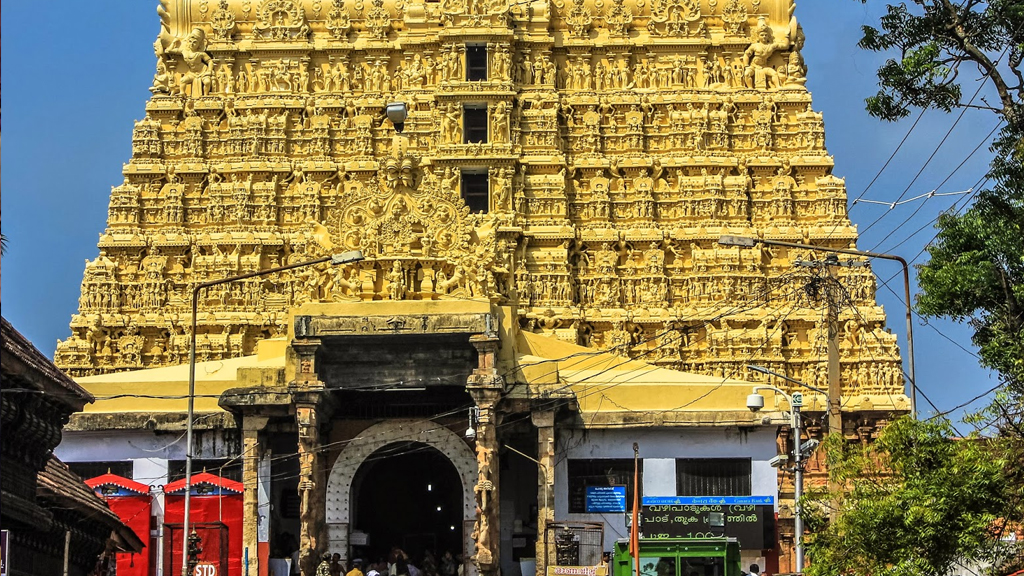 The temple hosts a number of religious festivals and meets. 'Laksha Deepam', 'Alpashy Festival', 'Panguni Festival', and 'Navaratri Festival' are the most noteworthy festivals among all. However, if you plan to visit Sree Padmanabhaswamy Temple, please ensure that you follow the temple dress code and also avow Hindu practices strictly!
22Chalai Bazar
Even if the scenic beaches, elegant palaces, historical landmarks, silent backwaters, and other marvels of Trivandrum fail to entice you, there is the Chalai Bazar that would surely make you crave for more! Yes, you heard right! One of the most colourful locales in Kerala's capital city, this 18th century market is surely the most bucolic places to visit in Thiruvananthapuram!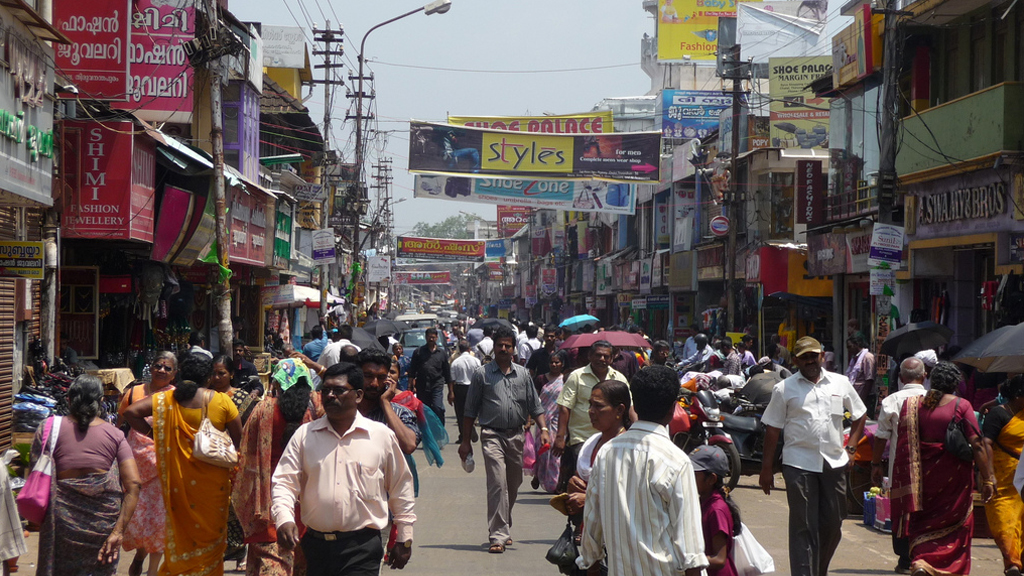 A kaleidoscopic heaven for the shopaholics, this market is dotted with numerous local shops. Even then, the entire vicinity has a unique charm and attracts thousands of shoppers. If you have a shopping spree, Chalai Bazar is where you should be heading to! And while in here, make sure you are good at bargaining; you may end up buying a piece of heaven here!
23Kuthrimalika Palace
A wonderful piece of Kerala architecture, the magnificent Kuthrimalika Palace is a treat to the visitors' eyes! Located within a proximity to the Sree Padmanabhaswamy Temple, this two-storey palace complex is a show stealer in the list of places to visit in Thiruvananthapuram.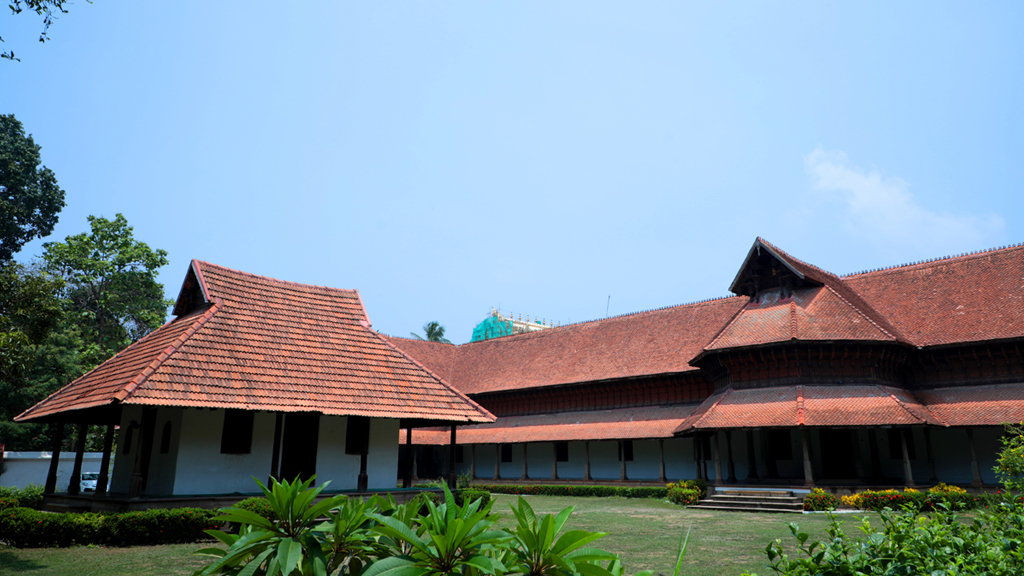 Also called the 'Mansion of Horses', the palace building was much ahead of its time. Its slanting roof-architecture, each rooms being exclusive in their own ways, detailed carvings, overhanging eaves, typical closed courtyards, and pillared verandas showcases the best of Kerala structure, and also make Kuthrimalika Palace a must visit heritage site!
24Attukal Temple
The hosting ground of the much renowned 'Attukal Pongala Festival', Attukal Temples in Thiruvananthapuram is a devout place of worship. Dedicated to Goddess Bhadrakali; an avatar of Mahakali who killed 'Daruka', this holy shrine is located with a close distance to Sree Padmanabhaswamy Temple.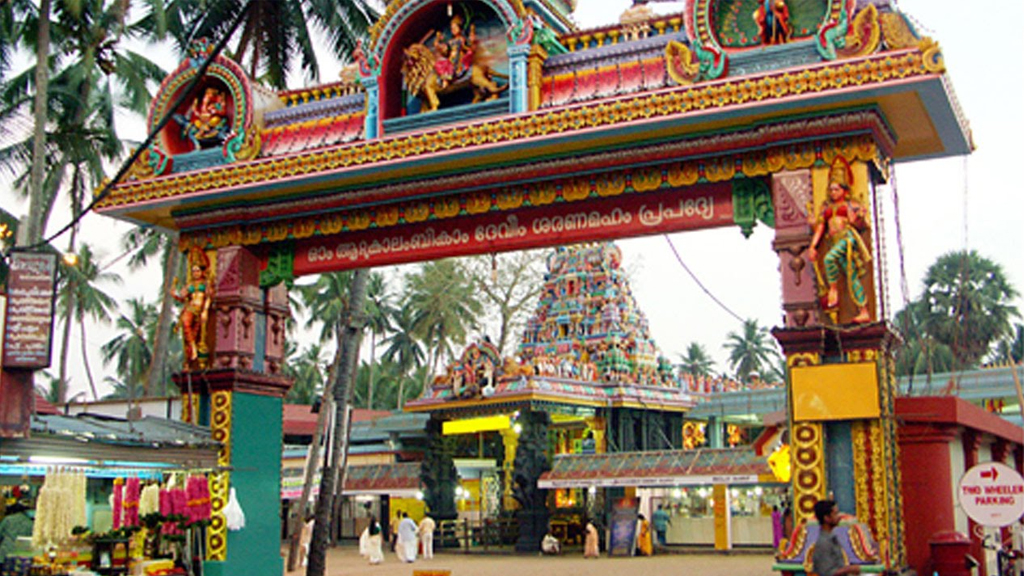 Devotted flock this temple with the belief that the Goddess fulfils every wish who worships her with a pious soul. Every year, millions of female devotees assemble at Attukal Temple to participate in the annual Pongala festival. This gathering is also said to be the single largest such gathering in the world.
25Magic Planet
While the word 'magic' is enough to bring in an array of imaginations, wonderment, fun, and never-ending excitement, how about if you are promises a day in the world of magic? Well, if you want to live this experience, you must visit Magic World in Trivandrum.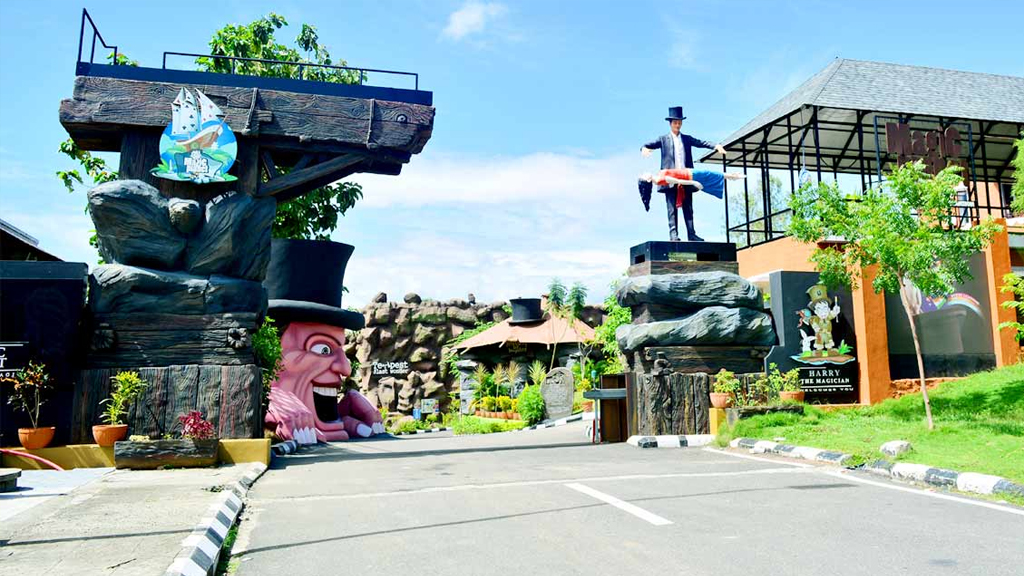 World's first magic themed park, this is the place where things may vanish within a wink of your eye, or you may get to enjoy ancient Indian tricks like 'Basket Trick', 'Mango Mystery', and lot more. Adding more to your fun list, there are shows based on international plays, and an array of exciting attractions for kids.
Magic Planet Timings: Tuesday – Sunday: 10AM – 05PM (closed on Monday)
Entry Fees: INR 400 (Weekdays), INR 450 (Weekends)
When to Visit Thiruvananthapuram?
Bring a coastal city, Thiruvananthapuram's climate has adequate amount of humidity. However, temperature in this metropolis remains within a favourable range along with abundance of rainfall. If you are planning for a trip to this flamboyant city, here is a seasonal guide to when to visit Thiruvananthapuram!
Winter in Thiruvananthapuram (October – February): Best Time to Visit Thiruvananthapuram
As October month approaches, temperature starts sliding down to a pleasant range. As days gests passed, you can expect a minimum of 14-15 degrees; however, temperature may fall further by January and February. Winters bring in a misty look with a soothing sense of crispiness in the ambience.
Monsson in Thiruvananthapuram (July – September): Good time to Visit Thiruvananthapuram
Trivandrum is the first city to welcome the south-west monsoon. Though the rain showers partially begins in the month of June, temperature remains moderately high, and starts calming with the advent of July. You can expect high humidity in the atmosphere with torrential rains quite often. However, as the atmosphere imbibes these rain showers, the locales get a new and fresh look making monsoon a moderately good time to visit Thiruvananthapuram.
Summer in Thiruvananthapuram (March – June): Average Time to Visit Thiruvananthapuram
If you are well acclimatized to higher temperature range, you would find summers a decent time to visit Thiruvananthapuram. Starting with a minimum of 22 degrees, temperature may rise up to 35-37 degrees. However, as humidity reaches the peak point, you may have to rethink on whether to visit Thiruvananthapuram in summers or not!
How to Reach Thiruvananthapuram?
How to Reach Thiruvananthapuram by Road?
Being the capital city of Kerala, one don't have to think much on how to reach Thiruvananthapuram by road! The city has a well-categorised roadway network with most parts of the state. KRSTC (Kerala State Road Transport Corporation) has regular buses from major towns and cities plying to Trivandrum. Adding more, you can also find regular buses from nearby cities like Bangalore, Madurai, Chennai, and Coimbatore.
How to Reach Thiruvananthapuram by Train?
Trivandrum Central Railways Station is the largest railway station in Kerala or the third largest in South India. Located within the city limits, this station has regular up and down train from across the corners of India.
How to Reach Thiruvananthapuram by Air?
Trivandrum International Airport is among the busiest airports in the country. Located off the city limits, visitors can land up at this airport from almost all the major airports in India via direct and connecting flights of all the major airlines. For the international tourists, they can also reach Thiruvananthapuram by air from across several foreign locations. Arriving at the airport, one can take buses or hire private cabs to reach the city.