The Southern state of Kerala blessed with abundance of natural beauty is also home to several temples, each of them having a deep religious, cultural and historical significance, apart from serving as excellent sources of traditional art and architecture. Visiting these temples prove an enjoyable experience, especially with time at hand to worship the deities and take a leisurely stroll through the premises.  Planning the visit during the religious festivals are bound to add further colour and excitement to the trip, but only if you don't mind the jostling crowds. Tradition and religious austerity may restrict entry of visitors, or impose specific dress codes at some of these temples. Do check out such requirements well before the visit to avoid disappointments.
1Sri Padmanabhaswamy Temple at Thiruvananthapuram:
The richest in the world, this temple is an excellent example of Dravidian architecture. This sacred pilgrimage destination easily dates back to the 8th century and also finds a mention in Puranas and Epics, but clear records of its origins are not available. The presiding deity, Lord Vishnu reclining on his five hooded serpent Anantha is a majestic sight to behold and pay obeisance. The idol of the deity contains 12008 Salagramas (sacred pebbles) from River Gandaki in Nepal. With each Salagrama believed to represent the lord, the sanctity and greatness of this deity and the temple is enhanced manifold. Separate shrines for Lord Rama,Seetha and Lakshman, Lord Hanuman,  Shri Yoga Narasimha, and Shri Dharma Sastha are also present within the sprawling complex.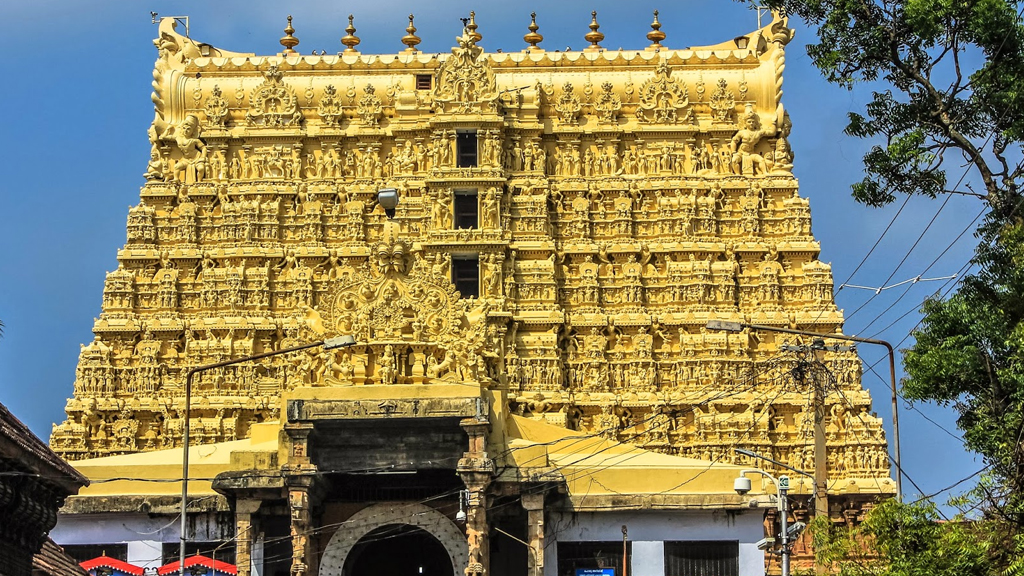 2Vadakkunnathan Temple at Thrissur:
This temple believed to be built by Parasuram (Vishnu's 6th incarnation) for Lord Shiva is yet another architectural monument with historical significance. Enclosed within stone walled premises spanning nearly 9 acres of land, the temple has three main shrines dedicated to the deities Shiva as Vadakkunanathan, Rama and Shankaranarayana, among several others as well.  The temple walls house a couple of rare murals that are nearly 350 years old as well as murals that depict scenes from the Mahabharatha.  A museum of wall paintings and vintage artefacts is also present within the temple complex. The structure has been declared as a National Monument of India.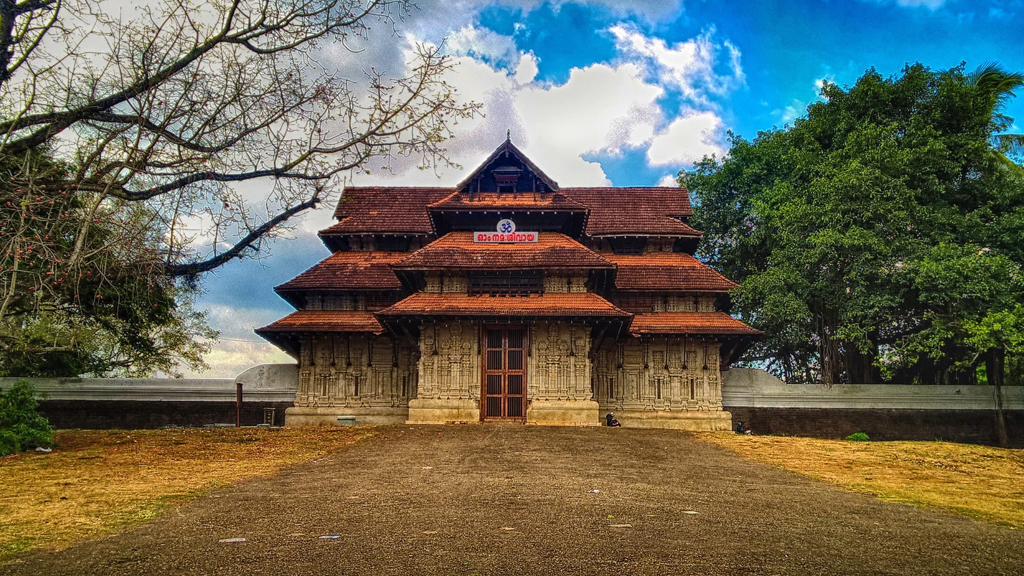 3Sabarimala Sastha Temple at Pathanamthitta:
Located amidst scenic, serene yet challenging landscape, Lord Ayyappa's abode at Sabarimala is till date open to men, children and elderly women only.  While the temple remains open from the month of November till mid-January for the Mandala puja and Makara Sankranthi puja, it is possible to worship the lord also during Chitra Vishu (Malayalam new year in mid-April) Pilgrims who visit the temple usually follow strict personal discipline, fasting (41 days) and abstain from all forms of temptations before and during their journey, which typically is quite challenging. There are several trekking routes to reach the temple, each of them has their unique challenges, but a darshan of the lord simply melts away all troubles.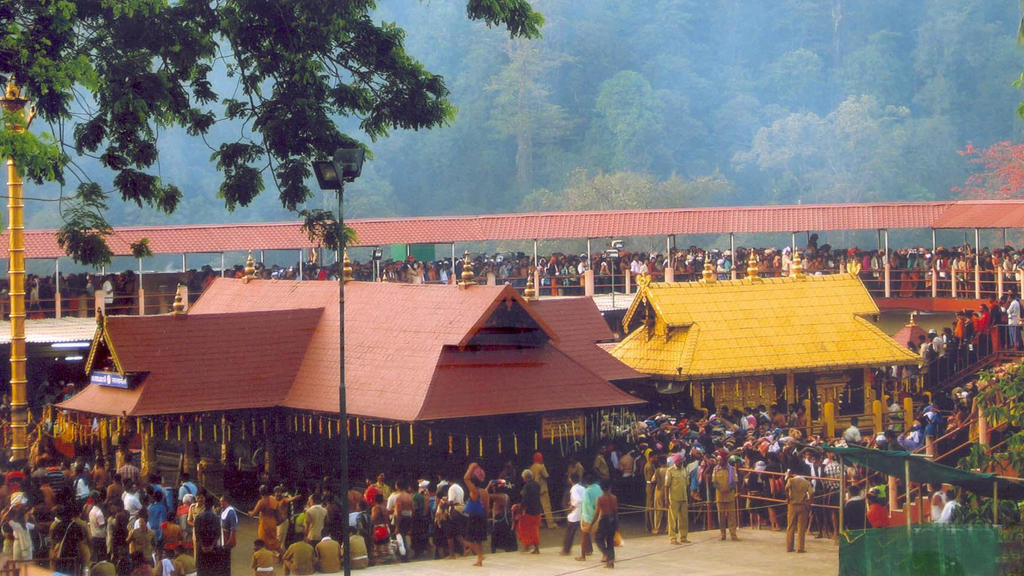 4Chottanikkara Temple at Chottanikkara, Ernakulam:
The powerful Goddess Chottanikkara Bhagavathy is worshipped with utmost respect for her curative powers that heal all forms of mental ailments including impact of evil spirits. Located in a scenic setting, the impressive temple housing the idol in golden hue, bedecked with colorful floral garlands offers peace and solace to devotees. The goddess is worshipped as Saraswathy in the mornings, Lakshmi at noon and Durga in the evenings.  Sharing the same pedestal along with Lord Vishnu, deity is also commonly known as Ammenarayana.  Idols of Brahma, Ganesh, Subramanya and Sastha are also present on the same pedestal. The special puja performed to invoke devi Bhadrakali at the Kizhukkavu temple within the complex, especially on Fridays is believed to rid women of mental abnormalities permanently.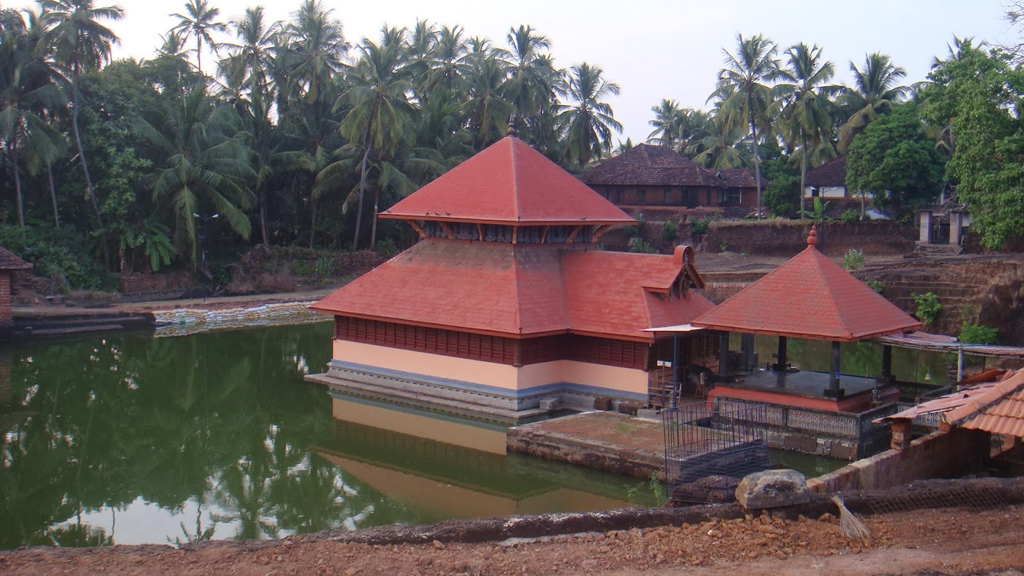 5Ettumanoor Mahadeva Temple at Kottayam:
Being the earliest temple for Lord Shiva in this State, it houses some of the most beautiful murals and frescoes of the lord, especially one in dance posture, Pradosha Nruthyam, reportedly the best wall painting in the country. Apart from the main deity's idol, there are shrines for Lord Shastha and Lord Ganesh inside the premises.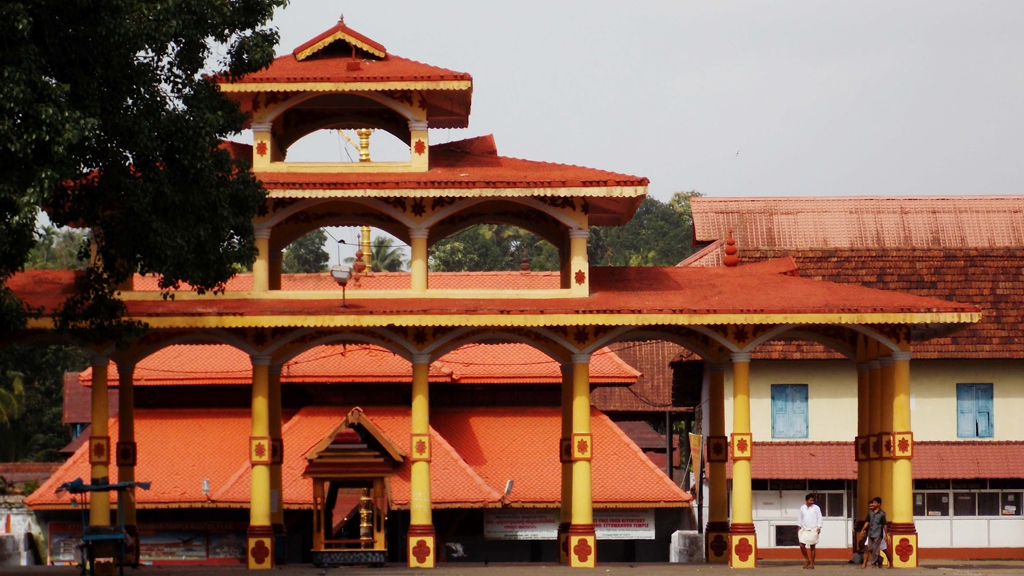 6Vaikom Mahadeva Temple at Kottayam:
Along with the temple for Shiva at Ettumanoor, this one at Vaikom and another at Kaduthuruthy are three most famous temples for Shiva in Kerala, where the Lingams are believed to be installed by a demon (asura) named Khara. Worshipping the lord at all three temples on the same day, before the mid-day pooja, is supposed to fulfil one's wishes. The Western door of the sprawling courtyard (8 acres) remains closed till date, as a result of god's wrath on a chieftain who disrupted pooja. Murals adorn the walls of the temple, which is structured in a unique manner.  An interesting mix of beliefs, architecture, legends and history these temples draw many visitors to the land.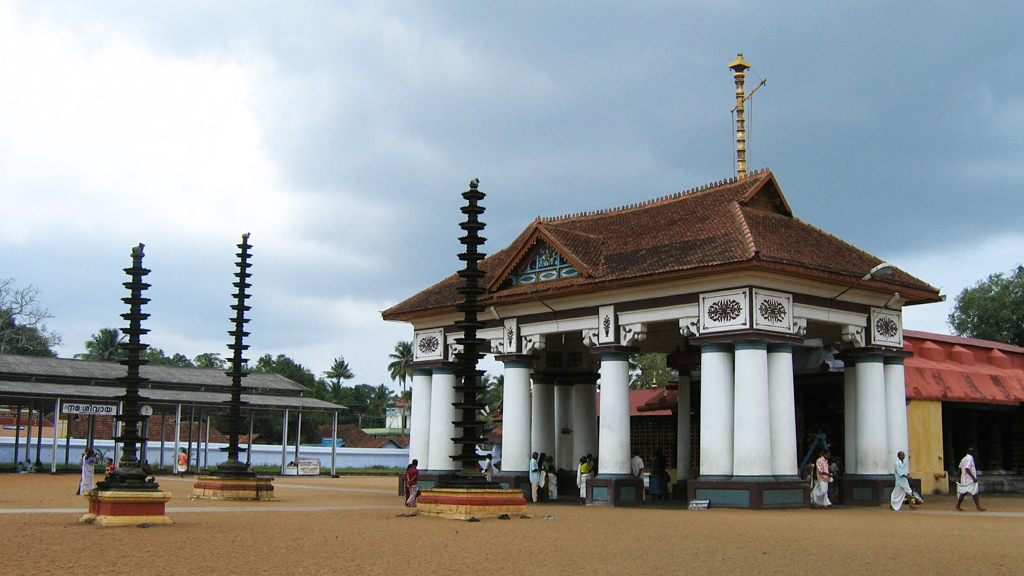 7Guruvayoor Srikrishna Temple at Guruvayoor:
Guruvayoorappan, the presiding deity of the temple is worshipped as a four-armed form of Vishnu, holding the disc (Chakra), conch (Panchajanya), lotus and mace (gadha). The idol, crafted out of a rare amalgam known as Paadalaanjanam, is believed to be over 5000 years old. The architecture and beautiful structure of the temple is a wonderful sight to behold. Strict dress codes are enforced, and there are religious customs in place that need to be respected. A dip at the temple tank Rudratheertham before entering the temple is customary. A visit to the temple's elephant yard housing over 50 elephants is bound to prove a unique experience.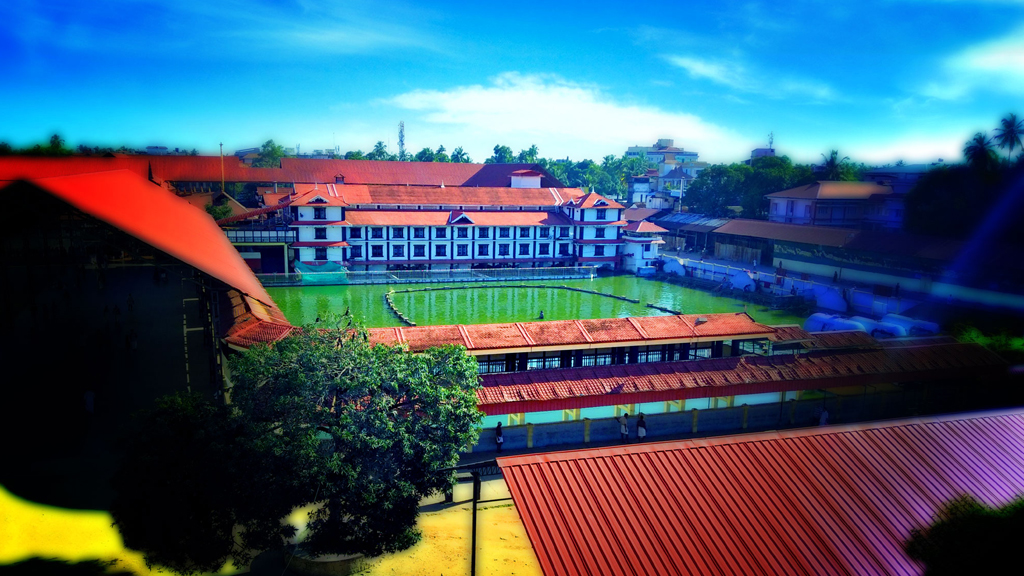 8Attukal Bhagavathy Temple at Thiruvananthapuram:
Goddess Bhadrakali is worshipped as Attukalamma at this temple, which sees the largest number of women devotees assembled to celebrate the Pongala festivities annually, making it to the Guinness Book of World Records for the very same reason. Located in the vicinity of the Padmanabhaswamy temple, a visit to this temple is an integral part of temple tours in the city.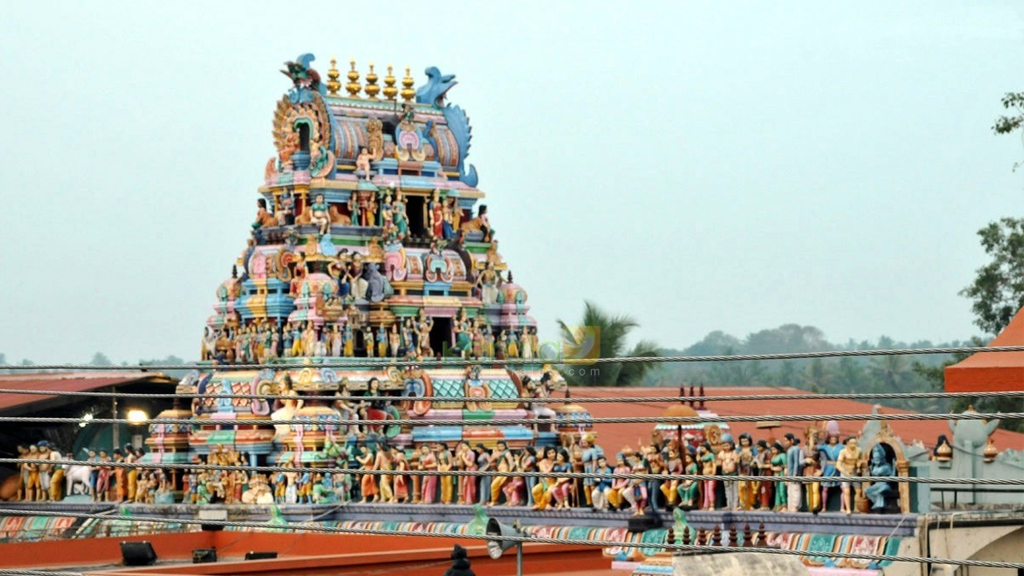 9Pazhavangadi Maha Ganapathy Temple:
Also located in the heart of Thiruvananthapuram, this temple dedicated to Lord Ganesh houses 32 different forms of Ganapathy.  This temple was an important place of worship for soldiers serving in the Travancore Army.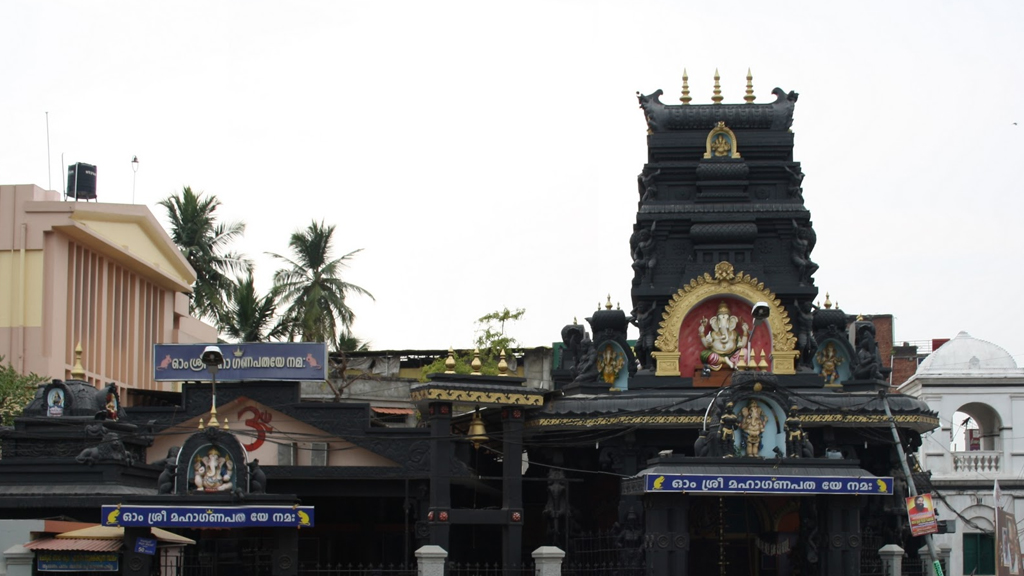 10Aranmula Parthasarathy Temple at Mallapuzhassery:
Lord Vishnu in the form of Parthasarathy (Arjun's charioteer in Mahabharatha) is the main deity of this temple, based on typical local architectural style. The temple is legendarily associated with the Pandavas, who after crowning Parikshit visited Kerala on a pilgrimage, installed idols of Vishnu at Thrichittat (Yuddhishtra), Tiruppuliyoor(Bheema), Thiruvaranmula (Arjuna), Tiruvanvandoor (Nakula) and Thrikkodithanam(Sahadeva) and worshipped them. It also is a safehouse where the golden attire (anki/ kavach) of Lord Ayyappa is stored, and then transported to Sabarimala during the annual jewel procession. Aranmula is a delight to visit, especially during the famous Snake boat races held each year.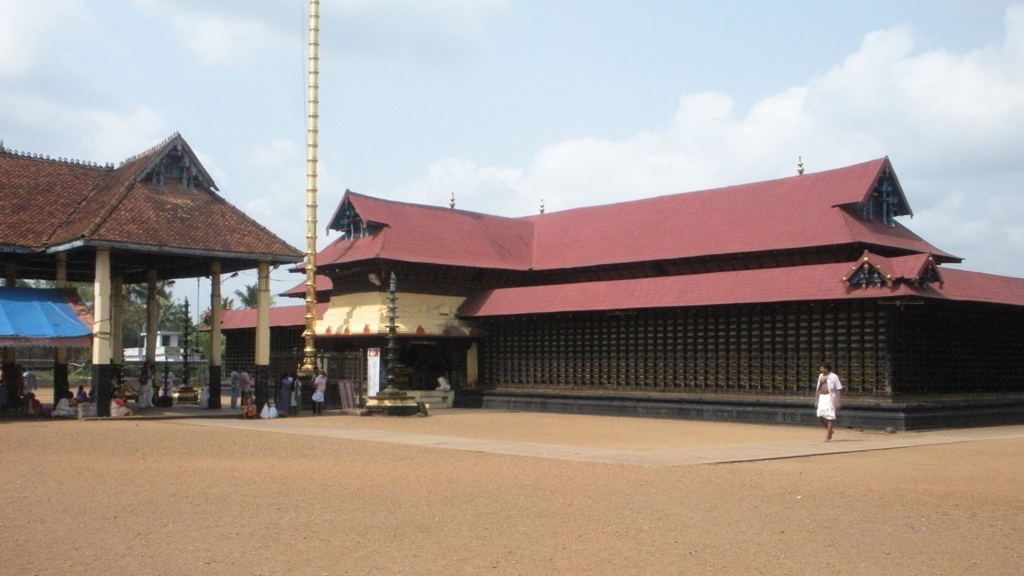 Kerala is home to a multitude of temples and ranking them is no easy task. These are but a handful of temples that are quite renowned and popular.  Irrespective of who your favourite deity is, take time to plan your trip to Kerala so that you can visit as many temples as you can in a leisurely manner, soaking in the settings, appreciating the legends and history associated with these monuments and offering worship to the Gods who preside over them.